Military regulations force council race withdrawal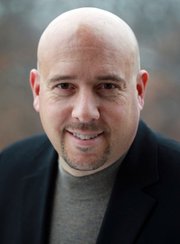 A lieutenant colonel in the U.S. Army who filed for election to a Ward 3 Shawnee City Council seat last week is withdrawing his candidacy — at least for now.
Jeff King, a 24-year military veteran, filed for the seat Jan. 2, apparently setting up the first race in this year's city elections.
But King notified City Hall on Monday that he could not be a candidate until he receives permission from the military.
"A pretty trusty source told me before I applied that it would be OK because of precedent," King said Monday. "But that was like 10 years ago. And the bottom line is that, after the story (that he'd filed) got out, some regulations were shown to me pretty quickly. Apparently those regulations have become more stringent or are being more strictly enforced."
King said he would seek permission to run for the City Council seat from the Secretary of the Army. If he gets the go-ahead prior to the noon Jan. 22 filing deadline, he said, the race will be back on with Jeff Vaught.
Vaught, the Ward 3 incumbent whose first term expires this year, filed for re-election on Dec. 3.
Four City Council positions, one for each council ward, will be on the April 2 general election ballot, and a Feb. 26 primary election will be held if more than two candidates for any position file before the Jan. 22 deadline. Michelle Distler filed for re-election to her Ward 4 seat on Dec. 11. The other two incumbents, Dan Pflumm in Ward 1 and Alan Willoughby in Ward 2, have not yet filed but have indicated they plan to do so.
Vaught resides just three blocks away from King. But King said last week that his desire to run had nothing to do with Vaught's record.
"To me, it's kind of a continuation of other things I've done in my life," King said.
King currently works as the protection team chief at the Center For Army Lessons Learned at Fort Leavenworth. In that role, he is in charge of analyzing and improving operations in the areas of engineering, military policing, chemicals, force protection and safety, he said. He also has been a public works director, among other military roles, and a homeowners association director in Atlanta.
King, who has lived in Shawnee for 17 months, said he is scheduled to retire in September and end his full-time Army duties in June. Having lived in a half dozen countries and five different states during the past 24 years, King added that he was eager to put his knowledge and passion to serve to work for his new hometown.
"It's kind of the next step, to represent the people in my area and be part of my local community," said King, who attended Kansas University and, while growing up, split time between Kansas and Atlanta.
Vaught, who has lived in Shawnee since 1993, is a commercial real estate broker and owner of The Vaught Group, 5720 Nieman Road.
"I like the direction we're going and want to continue it," Vaught said when asked why he was seeking re-election. "We're starting to see some development successes, which was one of the key reasons I ran (in 2010), to work diligently to bring development to Shawnee."
Vaught said one of his accomplishments had been serving on a governing body that had held the line on property taxes while retaining $19 million in reserves despite a down economy.
"I don't believe you raise revenue by raising taxes," he said. "I believe you do it by increasing the tax base through economic development."
To help spur development, Vaught supported renegotiating landfill impact fees such that Deffenbaugh Industries will soon be paying $3 million rather than $300,000 a year. The city will use half the added revenue to catch up on street maintenance and the other half to finance a new Economic Development Fund.
That fund, Vaught said, will offset the cost of development incentives as well as a suspension of the excise tax, which he recently proposed.
Vaught also has been an advocate for city support of the Eco-Commerce Park, a proposed project near 47th Street and Kansas Highway 7 designed to help the city capture jobs being created in the metropolitan area's hot industrial development sector.
Vaught is currently president of the City Council and in that role leads meetings of the City Council Committee. The committee, which includes all eight City Council members, was created at Vaught's suggestion to replace two former four-member committees.
"With the two standing committees, issues would be talked about by four people and then go to the council, where the debating would start all over," Vaught said.
The new committee allows business to be conducted in a more orderly fashion, he said.
One issue hashed out during committee meetings over the past year was the phasing out of a defined-benefit supplemental pension plan.
"I was a driving force in moving to a defined-contribution plan, which keeps us competitive with other cities and takes away the possible long-term liability of a defined-benefit plan," Vaught said.