Voorhes, Stacy help Jaguars pull away at Basehor-Linwood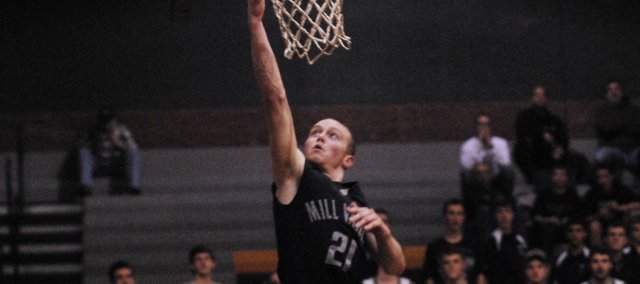 Basehor — It started with a flurry, not unlike a prizefight, the two teams trading early haymakers.
Quarter one went to the hosts, the Basehor-Linwood boys basketball team, which jumped to a 15-12 lead against Mill Valley on Tuesday.
But moments later, MVHS junior Wyatt Vorhees sent a signal of things to come the rest of the night. Vorhees, a transfer from Bishop Miege playing in his second game with the Jaguars, buried a three-pointer to tie and finished with a game-high 19 points in the Jaguars' 65-49 victory.
"He's a vocal leader," Bogart said. "He wasn't afraid to come to a team like ours and be assertive. To fit into our system the way he has made the transition even more valuable for the team."
The Bobcats opened an early 12-5 lead after one of junior Chase Younger's three three-pointers and a pair of baskets by freshman Jahron McPherson. But MVHS trimmed its deficit to end the quarter and stormed back to take a 26-25 halftime lead.
Mill Valley freshman Logan Koch, who finished with nine points, also knocked down a second-quarter three-pointer to complement Vorhees' game-tying score earlier in the quarter.
The half was a wild affair with 21 total fouls (13 against Mill Valley, eight against BLHS) being called. The frequency of whistles slowed in the second half, but Mill Valley's attack didn't.
The Jaguars outscored BLHS 20-10 in the third quarter to pad a lead they wouldn't relinquish. Although Johnson went on to bring down seven of his eight rebounds in the second half, the Jaguars brought down just enough — and forced enough turnovers — to open up an abundance of fast break opportunities.
Taking the bulk of those was Vorhees, who slipped through a gasping defense for several attention-grabbing layups — he scored 12 second-half points.
MVHS senior Nathan Stacy finished with 14 points and 10 rebounds. Stacy scored seven points while the Jaguars pulled away from the Bobcats in the third quarter.
The Jaguars were able to rely on a deep attack to fend off the Bobcats: Patrick Muldoon drew several fouls in the paint and Brett Hamilton added 10 points. Afterward, BLHS coach Mike McBride conceded that the Jaguars' depth helped fatigue his squad.
"They went 10 athletes deep," BLHS coach McBride said. "Sometimes that's the difference between 4A and 5A."
MVHS improved to 5-2 (4-1 in the Kaw Valley League), winning its second straight since returning from winter break. Entering the break, the Jaguars dropped two straight games: a rout at the hands of Shawnee Mission South and game against Lansing in which a late rally wasn't enough to overcome a deep hole.
Entering Tuesday's game, which would mark the Jaguars' second straight win since returning from winter break, MVHS coach Justin Bogart maintained his goal for his defense to limit the Bobcats to 47 points. If you hold your opponent to 47 points, he figures, you'll win an upward of 75 to 80 percent of your games. Though finishing two point north of the mark, the message stuck.
"We probably made the game a little faster than their bigs wanted," Bogart said.
Down the road, a rematch of Tuesday's game still awaits. Between Lansing's strong start to league play, Piper's emergence as the darkhorse KVL coaches foretold and Mill Valley making its statement, the league race figures to be interesting.
"Lansing and Basehor-Linwood have ruled the roost for several years," Bogart said. "We're beginning to stick our toes back in and it feels good."