Willoughby files for Ward 2 seat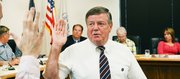 Alan Willoughby, the Shawnee City Councilman whose appointment led to allegations that the Kansas Open Meetings Act had been violated, has filed for election to the Ward 2 seat.
But upon filing Monday, the 69-year-old Shawnee resident said he wanted the focus to be on his qualifications.
"As those who know me well will tell you, there is a lot more to who I am and what I have done than the fact that the mayor just happens to be married to my wife's niece," Willoughby said. "I am looking forward to having a conversation with the people of this ward about the challenges we face in these tough times and what I offer to address to challenges. To me service is not just a passing thought or fad."
On July 9, the City Council voted 4-2 to appoint Willoughby to complete the term of David Morris, who resigned. Councilwoman Michelle Distler supported Michael Kemmling, one of five residents who sought the appointment, in part because Kemmling had lost by only 11 votes in last year's Ward 2 race against Neal Sawyer.
But that wasn't the only reason Distler voted against the motion to appoint Willoughby. Distler said she also voted no because she was "told on (the previous) Thursday that this is who the appointment was going to be," who would make the motion and who would second it.
Mayor Jeff Meyers subsequently acknowledged that he had privately discussed the appointment candidates with individuals on the council. And that prompted an investigation by the Johnson County District Attorney's Office to determine whether or not the state open meetings act had been violated.
That investigation has concluded, District Attorney Steve Howe said recently. But the DA's office has yet to announce whether KOMA was violated or not.
Willoughby, the first candidate to file in the Ward 2 race to be decided by voters April 2, has lived in Shawnee for 35 years and is a retired Ford Motor Co. engineer. An Air Force veteran, he earned a bachelors degree in mechanical engineering from Kansas University and a master's of business administration from Oklahoma City University. He and his wife, Aggie, have four sons and four grandchildren.
Willoughby, who served on the Shawnee Planning Commission prior to his City Council appointment said that, as an engineer, "I have spent my entire life solving problems and building things up, not tearing them down."
"That is exactly what I will continue to do on the council," he said. "Aggie and I have lived on a street without curbs and gutters for 37 years, so I know a little about how important it is to have a voice on the council that will fight every day to make sure that our established neighborhoods are never forgotten."
In addition to this City Hall service, Willoughby is a charter member of the city's Irish-American and German-American clubs.