Earning it all back and more:
SMNW

junior rises in wrestling ranks, seeks redemption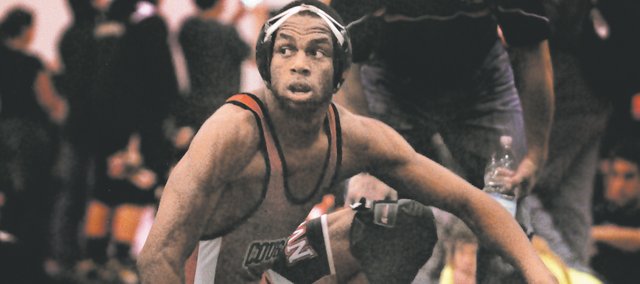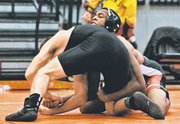 LaPhonso McKinnis is standing at the highest of three wooden boxes, a "1" emblazoned on its front. A first-place medal draped around his neck, the Shawnee Mission Northwest junior holds a white poster of his weight class' bracket, given to each Dick Burns Mat Classic champion after a long early January afternoon in Bonner Springs.
He's smiling as he holds his bracket out front for photos, doing so in betrayal of young athletes' instincts to sport a gruff face in front of a camera.
Barely 11 months earlier, McKinnis stood before his varsity wrestling teammates one afternoon at practice, choked with regret.
It was the Monday before the district wrestling tournament. Just one month into his first varsity season, the 170-pounder couldn't help his team.
Days before, the life he led caught up with him.
"I used to steal a lot," McKinnis says now, sitting not far from where he first delivered the news to teammates. "Just anything and everything I could get my hands on. I'd just … I'd steal it."
In the year since, McKinnis has worked to earn back trust and improve his performance in the classroom. In the process, he has become recognized by wrestling coaches in the state as one of the best in his class — all while outracing the demons that once haunted him.
First taste of gold
McKinnis didn't want a break. After winning his first career tournament title at the Johnson County Classic last month, he wanted more, instead settling to wait for the Dick Burns Mat Classic.
As it happened, the Bonner Springs tournament marked the one-year anniversary of McKinnis' first varsity meet — which also saw him record his first pin and, later, a fifth-place finish.
This season, his second as a varsity wrestler, McKinnis won the third-place match at his team's annual home tournament one week before the Johnson County Classic. Still, he entered the Classic under the radar, seeded sixth.
"And I had to fight for that," SM Northwest coach Howard Newcomb said.
After overcoming a loss on the first day of pool competition, McKinnis fought his way back up the championship bracket, along the way settling a score fresh on his mind since last season.
SM West senior Jordan Dillard couldn't have known just how much McKinnis had thought about a rematch. Dillard couldn't have known just how much his 33-second pin of McKinnis at the 2012 regional tournament had so consumed McKinnis.That became evident to anyone who watched McKinnis pin Dillard four minutes into their match at the Johnson County Classic. But he wasn't done there. Two more wins later, McKinnis bolted out of the gym, tears streaming in celebration of his first tournament title.
When McKinnis won that title, absent inside the gymnasium were his parents, who had lived just long enough for their youngest son's first words and steps, but not long enough to know what him wrestling with his siblings foretold.
'I just want to succeed in life'
LaPhonso McKinnis was just 3 when cancer took his mother, Darlene McKinnis, and 4 when diabetes claimed his father, Larry McKinnis.
He loved them both but remembers little. What he does know is his father didn't take care of himself.
"He was kind of a bad role model," McKinnis said. "I remember the stuff he did — I mean, I love him, but he just … the stuff he did I would never do."
McKinnis said he could remember his father dealing drugs. He remembers seeing addiction at an early enough age to recognize it when, years later, he started hanging out with those afflicted by the disease — the same crowd he'd be with when he'd steal.
"I just don't want to end up like that," McKinnis said. "That's why I stay away from the people that do it … I just want to succeed in life."
McKinnis is the youngest of nine siblings, the whereabouts of some he no longer knows.
Like Henry Owens, who himself wrestled at SM Northwest and advanced to the state tournament in his first varsity season. But unlike McKinnis, Owens' career began as a senior.
McKinnis figures the seeds for his wrestling career were planted in the living room of his foster mother Carla Doran's home. There, he'd wrestle with his brothers, twisting and dodging, grappling and giggling.
By his freshman year, when he met Newcomb, McKinnis began to wonder about taking on the sport for real.
From the start, McKinnis' raw talent was clear to Newcomb.
"We saw a lot of athleticism then," Newcomb said of his first encounter with McKinnis. "He was a pretty good athlete who wouldn't get the chance to play football his freshman year because he was ineligible. I told him to try wrestling, where he would be eligible the second half of the season. He was doing a pretty good job."
Teammate, and practice partner, junior Mario Galvan lauded McKinnis' quickness, adding that he possessed a long frame uncommon at the 170-pound level.
Each day at practice, inside the dank, humid wrestling room in the bowels of SM Northwest, Galvan and McKinnis try to solve the puzzle that is the other's skill set. They stalemate, then one gains an advantage before the other escapes to take control. Through all of this they stop to joke, slap each other's head and revel in the otherwise physical misery that is practice.
"We try to make the best of it because practice does suck, yeah," Galvan said, laughing.
As is the case when they help one another warm up before their matches at tournaments, McKinnis and Galvan often look like two kids wrestling around after school.
Thinking about a future
Last spring, not long after McKinnis came clean to his coaches and teammates, he accompanied Newcomb, Newcomb's son, sophomore Zack Newcomb, and assistant coach Mike Wall to Wall's alma mater, the University of Missouri to watch the Tigers wrestling team's dual against the University of Oklahoma.
McKinnis is spending this year improving his grades at Horizons High School in Mission. Still it is becoming time to think about college, where McKinnis wants to continue his wrestling.
But if nothing else, McKinnis relished the opportunity to watch wrestlers of a higher caliber that day, taking notes and forming opinions of his own.
For awhile, McKinnis' athleticism helped fill part of the gap created by his inexperience. Now he's confident enough to spar with Newcomb in debates about why one of McKinnis' favorite wrestlers, Oklahoma State's Jordan Oliver, came up short in an NCAA national championship final last year.
"We were just talking about that the other day," Newcomb said one afternoon at practice.
"He got too cocky and slacked off," McKinnis said. "His sophomore year, he had won a national title and the kid he wrestled in the finals last season he had already beat, so in his head he thought it'd be an easy win and it cost him the match."
"In your opinion," Newcomb said.
"In my opinion," McKinnis added, smiling. "You're never going to be able to slack off and get what you want."
McKinnis arrived at this knowledge with his own difficulty. Before running through the consolation bracket to place third at the Cougar Invitational, McKinnis cost the Cougars a point with his heated reaction to his first and only loss that day.
"You did a little extra running after that, didn't you?" Newcomb asked McKinnis.
"It's not the state tournament, so I shouldn't have been so mad," McKinnis said. "Everybody's not going to have an undefeated record. I've got to just keep my cool and continue to wrestle."
Nothing to hide
After winter break, McKinnis returned to Horizons for a second semester, where he will continue to improve his grades with an eye on returning to SM Northwest for his senior year. He likes math and biology and is warming up, at least as much as a teenager can, to homework.
The memory of past mistakes still fresh, McKinnis' sport — not to mention his teammates and coaches — has also helped keep him away from falling back into the wrong crowd.
Not that there would be much time for that anyway. When he gets home from practice, all McKinnis wants to do is to eat, shower and sleep. And besides, he's got more tournaments to win. He has state on his mind.
And how can he not begin to think grand thoughts? Through wrestling, McKinnis has been given a compelling argument for working for what you want. Through hours spent sweating after school and pushing through pain at all-day tournaments, the benefits have been tangible. Thoughts of more cardboard posters and medals cause McKinnis to light up, a smile wiping across his face.
"Working for something is a way better feeling than stealing it and trying to hide it from somebody," McKinnis said. "The stuff I've earned I can show everybody."
McKinnis is also working to build and maintain the trust of his foster mother.
"Me and my personal choices caused her a lot of trouble," he said.
In the Kansas high school wrestling community, McKinnis isn't under the radar anymore. Back from winter break, he entered the Dick Burns Mat Classic as the No. 1 seed. Ahead 17-5 on points with just seven seconds left in his semifinal match against Bonner Springs' Jacob Folsom, McKinnis tweaked his knee on the mat, writhing in pain. He returned to his feet long enough to finish the match and hobble over to the scorer's table and sign his name.
Though clearly in pain, McKinnis wasn't about to pull out of the tournament.
"I'm going for number one now," he said, before searching for a knee brace to wear during his title match.
In that match, McKinnis held on to defeat Atchison's Geoffrey Vaughn, winning his second straight tournament and improving his record to 19-3.
When he stepped down from the medal stand, still holding his bracket and wearing his medal, still smiling, McKinnis quoted one of his other favorite wrestlers, 2012 Olympic gold medalist Jordan Burroughs.
"All I see is gold," he repeated.
Everyone else who looked could plainly see what LaPhonso McKinnis had earned.