Incumbents outnumber new faces in bids for seats on
SMSD

, De Soto school boards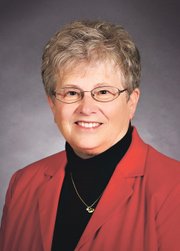 The race is on for one at-large seat on the Shawnee Mission school board.
Recently filing for re-election was incumbent Cindy Neighbor, who will face challenger Mark Read of Overland Park.
Neighbor has served on the Shawnee Mission school board for 16 years, and recently lost a bid for a seat on the Kansas State Board of Education.
As of now, Neighbor and Read are the only candidates to file for the at-large position on the board, and there must be at least four candidates for a school board seat to be placed on a primary election ballot in Johnson County.

In De Soto, one candidate, Scott Hancock of Shawnee, has filed for current school board member Randy Johnson's Position 4 seat, which expires this year. Johnson has said he will not seek re-election.
Position 4 covers the cities of De Soto, Lenexa, Olathe, a portion of Shawnee, and unincorporated areas.
Running for re-election are current board members Dick Dearwester and Tammy Thomas, both of Shawnee. Dearwester's Position 5 seat covers the city of Shawnee. Thomas' Position 6 seat also covers the city of Shawnee and a small area of Lenexa.
As of now, Dearwester and Thomas are running unopposed.
Dearwester was first appointed to fill the vacant Position 5 seat in 2010. He then was elected in April 2011 to complete the unexpired term of that seat. Thomas has served on the board since 2009.
The deadline to file for election is noon Jan. 22.