Startup to manufacture 250 jobs in Shawnee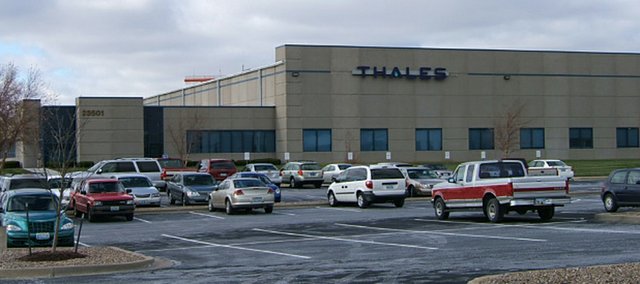 The Shawnee Economic Development Council is ringing in 2013 with good news — a welcome change after last year's announcement that Perceptive Software will move its nearly 700-job headquarters to Lenexa.
E.C. Manufacturing, an advanced manufacturing startup with plans to create 250 jobs within three years, will locate its production and headquarters facilities in Shawnee, the Kansas Department of Commerce announced Jan. 10.
The company, an affiliate of Leavenworth-based Heatron Inc., has acquired a 142,000-square-foot facility at 23501 W. 84th St. in Perimeter Park. The building, one of the largest industrial properties in Shawnee, was previously owned by Thales, a French transportation technology firm that had been downsizing locally due to corporate consolidation.
"We're always excited to have new companies coming in," said Andrew Nave, executive director of the Shawnee Economic Development Council. "But to have a building like this filled by another great company before it's even vacated is the really exciting thing."
Thales, which is in the process of moving its last 100 employees from the Perimeter Park site, had employed about 250 there before transferring about 150 production jobs to Maryland, said Mark Fountain, an industrial broker with Jones Lang LaSalle who represented Thales in the transaction.
After finding a smaller space for its remaining local employees, Thales was able to sell the Shawnee building quickly, partly due to state incentives and the efforts of economic development professionals like Nave, Fountain said.
"Andrew is good at what he does," he said. "He's professional, he's a salesman and he's relentless but in a nice way. It's hard for one person to be all those things, but somehow, he's figured out how to do that."
After learning the building was to be vacated, Nave said, he promoted it to the Kansas City Area Development Council, which led to the E.C. Manufacturing lead.
Fountain said some existing area companies he showed the Thales building to indicated that they would lose too many of their employees if they moved that far west. But E.C. Manufacturing officials said the site would work well for its employee base, Fountain said, and they liked the fact that "it was already equipped with air conditioning and heavy power."
Even so, the new occupant is planning extensive improvements. According to the Commerce Department, the cost of the building and improvements will represent a capital investment of more than $6 million by E.C. Manufacturing.
Nave said he could not divulge the average salary to be paid by the new company, a contract manufacturer specializing in production of advanced, small electronic components.
"But they will be very high quality jobs within the manufacturing sector," he said.
The Commerce Department's support was critical in landing those jobs, Nave said, adding that no city incentives were used to attract the company.
"The economic development tools (the state is) providing helped offset the sizable investment made in this somewhat unique industrial property," Nave said.
Matt Keith, a spokesman for the Commerce Department, said the nature of the state incentives could not be released at this time.
According to Nave, his organization partnered on the E.C. Manufacturing project with Alicia Hutchings of the Commerce Department, Tim Cowden of the Kansas City Area Development Council, Chris Baltimore of McGladrey, and representatives of Jones Lang LaSalle and Zimmer Real Estate Services.
"It's great to begin the year with a significant number of advanced manufacturing jobs completely new to our region," Bob Marcusse, CEO of the Kansas City Area Development Council said. "We congratulate E.C. Manufacturing, the city of Shawnee and the state of Kansas on this good news."
Those interested in applying for jobs at the new manufacturing facility should contact the Workforce Partnership at 913-577-5900.
More like this story