Praeger: Politicians playing 'dangerous' insurance game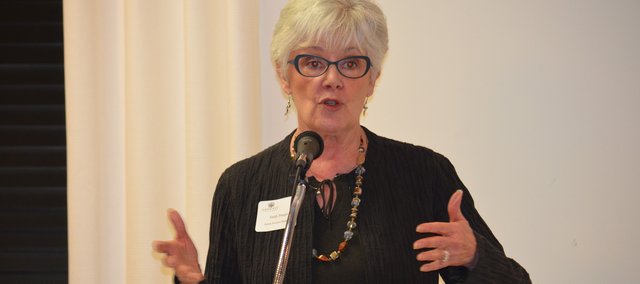 Kansas Insurance Commissioner Sandy Praeger didn't name names in describing the "dangerous game" being played with implementation of the federal Affordable Care Act in the state.
But Praeger, a Republican herself, clearly was referring to Gov. Sam Brownback and other tea party Republicans in state government when she laid out the political strategy she sees behind all the heel-dragging.
The position of those officials is "we don't want to participate in this; we want it to fail," Praeger said Jan. 9 during a Shawnee Chamber of Commerce luncheon. But as the federal health reform act commonly known as Obamacare rolls toward full implementation in 2015, the ongoing intransigence makes little sense, she said.
Obamacare cleared two hurdles last year: the U.S. Supreme Court and the November elections. But though the Supreme Court ruled the Affordable Care Act constitutional in June, its decision allowed states to opt out of Medicaid expansion, a major provision of the act aimed at getting more people under a health plan.
The Kansas Health Institute recently estimated that implementation of Medicaid expansion in the state would add about 122,000 adults and 118,000 children to the federal and state program, which currently covers about 380,000 low-income, disabled and elderly Kansans, 230,000 of them children.
Praeger said the federal government would pay 100 percent of the expansion's cost for three years, starting in 2014, then step down its share to 90 percent by 2020.
The Brownback administration, which still hasn't ruled out opting in, has expressed concern that the federal government will continue its habit of promising support for new expenses, then shifting the burden to states.
But Praeger countered that argument, saying that state Medicaid expansion would be enacted on a "year by year basis," protecting Kansas if the federal government doesn't live up to the bargain.
So far, only 17 states have opted in to Medicaid expansion, which starting in 2014 will expand eligibility in participating states to include all adults earning less than 138 percent of the federal poverty level, or $30,660 for a family of four.
Kansas currently has some of the nation's strictest Medicaid eligibility criteria for adults, Praeger said. In Kansas, only adults with children are currently eligible for Medicaid and they cannot earn more than 32 percent of the federal poverty level, or $5,900 for a family of four.
New health care insurance purchasing exchanges, another creation of the Affordable Care Act, will begin operating in 2014 and will offer subsidies on a sliding scale to those with incomes between 100 percent and 400 percent of the federal poverty level, Praeger said.
But if Kansas doesn't expand Medicaid eligibility, she said, those with incomes between 32 percent and 100 percent will have to continue accessing health care the way they do now — not at all or by going to hospital emergency rooms when they're sick.
Praeger noted that hospitals currently receive federal aid for such unpaid emergency room visits, called charity care. But under the Affordable Care Act, she said, some of that aid will go away, which could lead to hospital closures in states that don't expand Medicaid, she told the chamber.
There is still time to prevent that scenario from unfolding. But Praeger said another window of opportunity is rapidly closing — one related to the insurance exchanges, which will be online marketplaces that she likened to sites such as travelocity.com.
In 2011, Brownback rejected a $31.5 million federal grant that would have aided Kansas in setting up a state-run exchange. The state now has until Feb. 15 to indicate whether it wants to partner with the federal government in operating Kansas' exchange.
If the state does not opt in to the partnership, Praeger said, the exchange will be operated solely by the federal government, though her department would likely seek a federal contract allowing it to provide customer-assistance services for the exchange.
Praeger said the Affordable Care Act was written with the idea that states would run the exchanges, because states have much more experience in insurance matter than the federal government does.
As Kansas' insurance commissioner, Praeger is responsible for regulating all insurance sold in Kansas and overseeing nearly 1,700 insurance companies and 94,000 agents.
She was elected to the position in 2002 and re-elected in 2006 and 2010. But because of the increasing impact of politics on her office, she told the chamber, "this (term) is probably my last go-round."