With Monticello library on hold, temporary services being weighed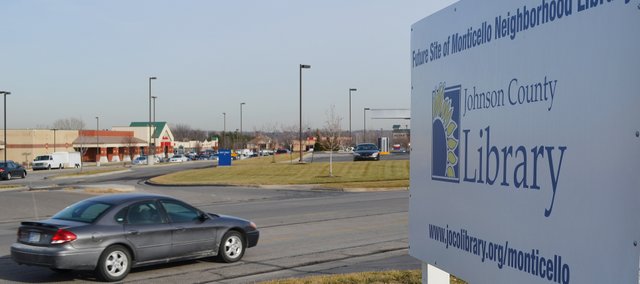 A robotic book-dispensing kiosk may be part of the temporary solution for enhancing library services in western Shawnee until a branch is added.
But it probably won't be the entire solution, said Sean Casserley, county librarian for the Johnson County Library system.
In the wake of input offered during a Jan. 7 library board meeting on the topic, Casserley said library staff is now researching the possibility of a "hybrid approach."
It would include one of the kiosks Casserley describes as "a Redbox on steroids" on the site near Hilltop Drive and Shawnee Mission Parkway where a Monticello library branch serving western Shawnee and western Lenexa eventually will be built. In combination with the walk-up kiosk, the library system now is looking at obtaining space at another location for services including story times, other children's programs and a system for ordering and picking up books.
Casserley said he had spoken with Mike Meadors, director of the Johnson County Park & Recreation District, about offering the library services at the Mill Creek Activity Center, 6518 Vista Drive. Meadors was supportive, he said.
Shawnee Ward 3 City Councilman Jeff Vaught, who lives in western Shawnee, said he was glad the library system was focused on more than just the robotic kiosk.
"I think we deserve a lot better than that," Vaught said. "The demographics are incredible in that area, which is loaded with children. And for us to get just a kiosk, which allows no (human) interaction, doesn't serve us very well.
"Society and children are becoming more and more isolated, and the library is one of those holdouts where kids can still gather with people, go to story times, look at books."
Due to the economy, it's hard to say when western Shawnee kids will be able to do those things at a branch near their homes, Casserley said.
Though a $24 million, 18,600-square-foot Monticello branch is the library system's No. 1 capital project priority, the soonest that branch could open is 2015, he said. And considering the county's budget picture, the opening could be pushed back to 2020 or beyond, Casserly added.
That's important, because a portion of the Monticello branch site was donated by the Sisters of Charity of Leavenworth with the condition that it can be taken back if the library system is not providing services on the site by 2020. The kiosk would satisfy that condition, which is one reason library board members have voiced support for it. Another reason is cost.
A robotic kiosk capable of storing 2,400 books would cost $760,000, library board members were advised during a December meeting.
A 5,000- to 15,000-square-foot storefront library was another temporary solution discussed at the December meeting. According to Casserley, initial research indicated it would cost between $1.9 million and $2.6 million a year to rent, staff and stock.
With the county's 2014 budgeting process looming, library staff is now preparing to crunch the numbers for the new Mill Creek Activity Center option, which is expected to be significantly less expensive than the storefront library option. But it would include only children's programs, not the selection of children's books that Vaught also wants to see made available in his area.
"To create that children's library experience is much more complicated," Casserley said. "But the (nearby) vending solution can include a large selection of children's materials based on community need."
According to Vaught, western Shawnee library patrons are among the system's most frequent users, despite the fact that they must travel to either the Shawnee branch at 13811 Johnson Drive or the Lackman branch at 15345 W. 87th St. Parkway, Lenexa.
Even so, Vaught is not certain the Monticello area will require a permanent branch of the size proposed.
"I understand budget issues," he said, "and I'm not promoting a $30 million branch either. With everything going digital, the library is an evolving, changing animal."
Vaught and Shawnee City Manager Carol Gonzales, however, have told the library board they want a Monticello branch built as soon as possible.
"We sure don't want to still be looking at this kiosk on the site 20 years down the road," Vaught said. "Though we are the second-fastest-growing city in Kansas, it seems like Shawnee is always getting pushed to the side, and that just drives me nuts."