Volunteer firefighter ends 52-year career — involuntarily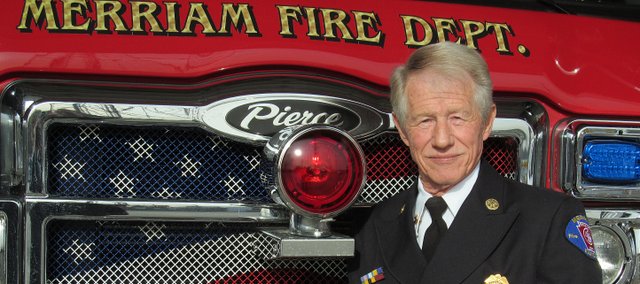 George Mallory Jr. was honored Saturday upon the conclusion of more than 52 years as a volunteer firefighter in Merriam.
But Mallory, a 70-year-old Shawnee resident and longtime volunteer division chief with the Merriam Fire Department, is quick to let you know he didn't retire. Rather, he and firefighters Travis Simpson and Eric Heim were the last members of a long-standing volunteer program that was terminated Dec. 31.
"George is a true, die-hard volunteer who is just there to help the public and to serve the public," said Merriam Fire Chief Bob Pape, who found it difficult to refer to Mallory's service in the past tense. "He does it for the love of helping others, and that's very admirable."
But ironically, Pape explained, the Merriam Fire Department has grown from an all-volunteer force into one in which volunteer service is no longer practical. With seven paid firefighters on every shift, the department can now dispatch two units without waiting for volunteers to arrive, he said. And mutual-aid agreements with surrounding departments provide additional units for major incidents. In addition, Pape said, it no longer makes sense to administer the stringent training requirements that played a role in the department's dwindling volunteer numbers.
Mallory, who served the department in firefighting and emergency medical capacities, agreed that an hour-a-day training requirement made it difficult to find volunteers in a day and age when employers are reluctant to let employees leave work during the week.
"On the weekends, they'd have to make up for the five days they weren't there for training," Mallory said.
Still, it's hard for him to say goodbye to a volunteer program that his late father, twin brother and two children also served and that is part of a nationwide training ground that has produced most of today's paid firefighters.
"That's true," Pape said. "A lot of paid firefighters start out as volunteers with a desire to serve their communities."
But while volunteers continue to account for 70 percent of the nation's firefighting force, he added, Merriam's volunteer program was one of few remaining in urban areas like northeast Johnson County. The Shawnee Fire Department's volunteer program also was disbanded recently.
Boyhood firefighting dream
Mallory said his path to firefighting began at age 5, when his father took him and his twin brother, Steve, to a firehouse in Wilmington, Del., where George Mallory Sr. was working at a Trans World Airlines overhaul base.
"He set us on the front bumper of a fire engine and told the on-duty captain to blow the siren," Mallory recalled. "That scared the living daylights out of me. But then I turned around and said, 'I'm going to drive one of these someday.'"
George Mallory Sr. grew up in Amherst, Mass., where he served as a volunteer firefighter as a young man. Unable to serve in World War II because of rheumatic fever, he later went to work for TWA in Dayton, Ohio, then Kansas City and other cities. And when TWA transferred him back to Kansas City in 1949, the family moved to Merriam. There, the father joined the volunteer fire department in 1955. And his twin sons eventually joined him at TWA, where all three retired, and the Merriam Fire Department.
George Mallory Jr. said he became a volunteer firefighter at the age of 17 in 1960, a couple of years before his neighbor Rich Frederick was hired as Merriam's first paid firefighter.
In those days, the Merriam Fire Department provided ambulance service from the state line to De Soto, and when Mallory and his wife, Sharon, moved to Shawnee in 1965, he began responding to Shawnee rescue calls from home. Thus, when Shawnee Fire Department officials began to discuss creation of their own ambulance service a few years later, Mallory was asked to help run it. But when he was told he must leave the Merriam Fire Department to do so, he declined.
Mallory later declined a paid firefighting position offered by Frederick, who became Merriam's first paid fire chief in 1976. It would have meant a $500-a-month pay cut with none of the benefits he received from TWA. So Mallory remained a volunteer, seeing plenty of action in that capacity from the increasing number of traffic accidents on Interstate 35.
"Fortunately, Merriam hasn't had that many big fires," Mallory said.
Memorable emergency calls
But he recalled responding to all the big blazes in Shawnee over the past several decades. Those included fires that destroyed landmarks like Garrett's Grocery, Shawnee Village Bowl and the Shawnee American Legion hall, plus fires at local apartment complexes like Pinegate West and King's Cove — "or King's Stove, as we used to call it," Mallory said.
On one particularly memorable night during the 1970s, an arsonist started fires at King's Cove and four other apartments.
"All these were going on at the same time," Mallory said. "Shawnee had their hands full, so we were dispatched to Trailridge Apartments, but on the way there a fire was reported at Oasis Apartments and we got diverted there."
On July 17, 1981, Mallory also was dispatched as part of a Merriam crew responding to the Hyatt Regency Hotel in Kansas City, Mo., where the collapse on two skywalks during a tea dance killed 114. Mallory, who assisted with triage at the horrific scene, said a Merriam firefighter who'd responded with him was so traumatized by the experience that he left the fire service.
Mallory, on the other hand, kept his family's tradition of volunteer service to the department alive until he was involuntarily terminated 31 years later.
In addition to his father, who retired as a volunteer lieutenant in 1979 and died a year later, and his brother, who retired as a volunteer firefighter years ago, Mallory has served alongside his son, Jeff, a former Merriam volunteer firefighter, and his daughter, Michelle Minshew, a former volunteer emergency medical technician.
"And now my grandson is following in my footsteps," George Mallory Jr. said of the 15-year-old, who is enrolled in a firefighting Explorer post.
Mallory, who has helped train countless young firefighters, said he has also been part of the world's largest, closest-knit family — the fire service.
Merriam fire officials wanted Mallory to know he's still part of that family. So during Saturday's celebration at the fire station, they presented him with a plaque, an axe and a scanner to monitor calls. "And, of course, he'll always have a key to the place," Pape said.