Developer says growth back in the picture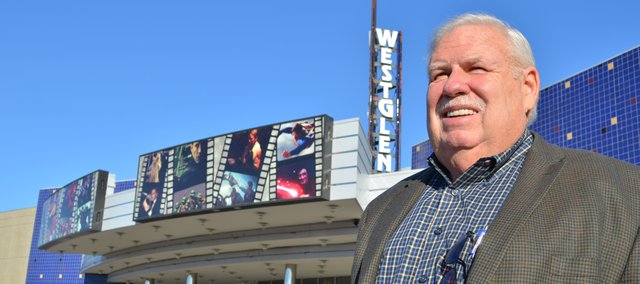 After studying growth patterns in the metropolitan area a few years ago, the Mid-America Regional Council reported that Shawnee was on the verge of a development explosion.
Then, in late 2007, came the recession.
"Overnight, everything stopped," Jack Waters said. "Developers failed, builders failed, projects failed, unemployment jumped up to 8, 9 percent.
"It was like that movie 'The Day The Earth Stood Still.'"
A retired banking executive and longtime developer, Waters likes to talk in movie titles, having in 1995 brought the first film venue to Shawnee since the single-screen Aztec closed in the mid-1970s.
Thus, Waters would probably concur that "Back to the Future" is a fitting title for the development chapter that lies just ahead in Shawnee. And there's reason to give credence to Waters' optimism: his track record.
In addition to attracting the WestGlen 12 Theatre and later expanding the building to house the current WestGlen 18, Waters developed Shawnee's first hotel since Quantrill's raiders torched the Higgins House in 1862. Besides that Hampton Inn and adjacent retail buildings in the WestGlen Center at Midland Drive and Renner Road, he also developed the nearby Courtyard by Marriott at 17250 Midland Drive and the Hereford House next door to it, the Oak Valley Shopping Center at Johnson Drive and Kansas Highway 7, the Mid-America West Sports Complex at 20200 Johnson Drive, and other commercial projects across Johnson County.
"Jack is just one of those people who has the ability to make things happen," said Linda Leeper, CEO of the Shawnee Chamber of Commerce. "He has very good vision."
So Leeper and others in the local economic development community are happy to hear that Waters now envisions a return to the edge of a boom.
"The recession is still very much in place for commercial," Waters said from the offices of his Parkway Real Estate and Oak Meadows Development firms.
He should know, given the lingering grocery store vacancy in the Oak Valley Shopping Center and his recent decision to give up on a 90-acre development project at 135th Street and Pflumm Road in Overland Park — "still one of the best pieces of retail ground in the region," he says.
"But the good news is that single-family housing is starting to rebound fairly well, due to the cheapest interest rates in the last 100 years," Waters said. "And, lo and behold, Shawnee's strong suit is residential. So once the economy turns, Shawnee will jump to the forefront because of its residential attractiveness, and shortly thereafter, we will see lots of commercial growth."
Toward that end, Waters added, Shawnee has a couple more things going for it now: a city Economic Development Fund to be financed with more than $1 million a year from recently renegotiated landfill impact fees and a City Council that is more receptive to incentives than in the past.
"They need to be receptive," Waters said, "because the projects that worked 10 years ago (without incentives) don't work today."
Not everyone in Shawnee shares his enthusiasm for tax breaks. During a recent debate over the use of tax-increment financing to revitalize Shawnee Parkway Plaza at Shawnee Mission Parkway and Pflumm, a resident told the City Council that TIF would unfairly hurt owners of other local retail centers. Waters owns two local centers and is not involved in Shawnee Parkway Plaza. But he disagreed.
"Whatever's good for the community is good for the community," he said.
Deep Shawnee roots
Born and raised in Kansas City, Mo., Waters has been involved in the Shawnee community since a Navy buddy introduced him to a young lady named Dorothy, whose family, the Verstraetes, go back decades in Shawnee, to its truck-gardening roots.
"As our romance moved rapidly along, she made it clear that this is where she wanted to be," Waters said.
So he and Dorothy bought a house here in the 1960s, and he began working in Shawnee, too, after his employer made him the manager of a new Anchor Savings branch in 1974.
Subsequently, Waters rejected several promotions that would have forced him to move, he said, "and when you turn a big company down like that a few times, you start to sweat it." So when he learned of an assistant vice president's opening at Shawnee State Bank in 1976, he applied, was offered the job and took it, along with a pay cut.
It was worth it, Waters said, because he appreciated the bank's close relationship with the community — a trait he shared. For 15 years, starting in the late 1960s, Waters volunteered as a member of Shawnee's reserve police force, and during the last seven of those, he doubled as a volunteer ranger with the county's new Shawnee Mission Park patrol.
Its first paid chief, Ralph Hays, used to manage the old Shawnee Drive-In, "which was right on the site we're sitting at," Waters said from the third-floor space he shares with his son John Waters Jr.'s construction company in the bank building at 6333 Long St.
Waters has had an office in that building since the mid-1980s, when he left Shawnee State Bank to open the former First National Bank of Shawnee there with Dick Lashbrook, a subsequent development partner.
A fortuitous meeting
The two had met through a remarkable coincidence in 1980, the year Waters served as president of the Shawnee Chamber and completed the Leadership Kansas program. One night when Waters was out for dinner following a Leadership Kansas session in a city he no longer recalls, he happened to tell a fellow class member that he sensed a huge opportunity for a new bank in his hometown.
"This guy said, 'You're never going to believe this, but I had breakfast this morning with a guy who was wondering if there was an opportunity to build a new bank in Shawnee,'" Waters recalled.
The guy, of course, was Lashbrook, who had just sold his interest in a Manhattan, Kan., bank. He and Waters subsequently put together a group of Shawnee investors, borrowed other money from Kansas City financier Frank Morgan and opened the bank.
First National Bank of Shawnee eventually was sold to Mark Twain Bank, which Waters served as vice chairman of the board for a couple of years. He then joined Exchange National Bank, which went public as Gold Bank. Over the next several years, Waters served as president of Gold Bank, then remained on the board of M&I Bank after it purchased Gold Bank. He retired from M&I three years ago, before it was sold to BMO Harris Bank.
A development pioneer
But at 68, Waters is not ready to retire from development and he's still involved in the Shawnee Economic Development Coordinating Council, which he helped form during his Shawnee State Bank days.
As one of the city's economic development leaders in the late 1970s and '80s, Waters helped set the stage for the growth he envisioned in western Shawnee.
"Rural Water District No. 3 would have a fire hydrant out there on a 3-inch plastic water line," Waters recalled, "and if the fire department hooked a pumper truck up to it, the line would collapse."
Thus, Waters campaigned successfully for Water District No. 1 of Johnson County and other utilities to expand service in the area. And, meanwhile, he was teaching himself how to take advantage of Shawnee's rising stock — as a developer.
The vision was the easy part, Waters said.
"To me, it was so obvious; Shawnee needed everything in those days," he said. "The Aztec had been closed; if you wanted to go to a movie, you had to drive to Overland Park. And if you wanted to go out to eat — well, there was Fred's Drive-In on Nieman Road."
Learning to fill those voids, however, was another thing, so Waters started small, as a residential developer.
"The first thing I did was buy a rundown house in the ghetto and fix it up, thinking I was going to make a lot of money selling it," he said. "What I didn't realize was that nobody wants to buy a nice house in the ghetto."
But Waters was learning the ropes with that project and renovation of three more houses, which he bought out of foreclosure.
A serpentine path
Then he moved into commercial development, buying the old Holliday School, with plans to fix it up and lease it out as warehouse space.
"There were snakes all over that building, and I mean big snakes, and almost all the windows were broken out," Waters recalled. "I'd go out there on weekends and put new windows in by myself, and I finished about the time Deffenbaugh (Industries) was expanding the landfill in that area."
Thus he sold the building to Deffenbaugh, and it was demolished before it housed a single commercial tenant. But again, Waters had learned from the experience. And driven by desires to improve his community and provide for his family, he blissfully became a workaholic, mixing banking with his new commercial development passion.
One of Waters' greatest development feats sprang from one of his family activities: coaching for the Johnson County Girls Athletic Association. In that capacity, he heard JCGAA officials moan for years about the inadequate restroom capacity, flooding and stinking septic lines at the association's former softball complex at Midland Drive and Renner Road.
Waters and Lashbook, however, knew the 13-acre site had great commercial development potential, lying as it did in the Interstate 435 corridor. So they proposed building the JCGAA a brand-new, state-of-the-art complex, since renamed the Mid-America West Sports Complex, and swapping it for the 13 acres. The JCGAA agreed, its new complex was completed in 1989, and Waters and Lashbrook subsequently acquired about 20 more acres adjacent to the old complex for development of WestGlen Center.
Along the way, Waters learned some more development lessons, about so-called "waters of the U.S." and all the federal regulatory hoops one has to jump through before redirecting their course. But eventually, permission to move a creek on the WestGlen site was won and extensive improvements needed to channel drainage to the redirected creek were completed.
"There's a pipe under WestGlen so big you could drive a Volkswagen through it," Waters said.
Just thinking about that and the 500,000 cubic yards of dirt needed for fill on the site seemed to make him tired. But he perked up when asked if more projects were in the pipeline.
"It looks like I'm going to have a continued disease," Waters said. "I'm still working, and, of course, I've got that land next to Hereford House."
That's four prime, developed acres, he said, getting more enthusiastic, and with the economy starting to thaw, he's expecting some action there soon.