Shawnee Mission Ford founder named Citizen of the Year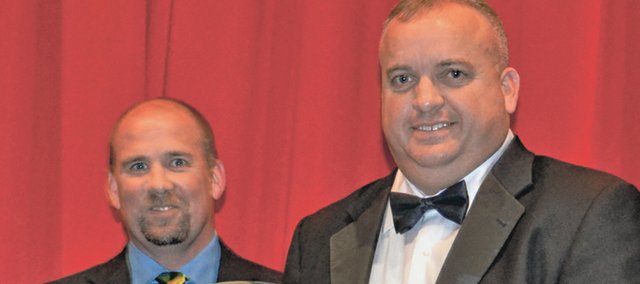 Dick Shull moved his Ford dealership to Shawnee in 1972, the same year the Shawnee Chamber of Commerce began presenting Citizen of the Year awards during its annual dinners.
On Saturday, the founder and president of Shawnee Mission Ford received the award during an annual dinner at the Sheraton Overland Park Hotel that attracted a crowd of about 400.
Unable to attend, Shull was represented by his son, Brad Shull, vice president of sales and marketing at Shawnee Mission Ford. He accepted his father's award from last year's winner, Joe Vohs, a Farmers Insurance agent who donated his kidney altruistically via the National Kidney Registry.
Vohs and Brad Shull both characterized Dick Shull as someone who preferred to serve his community from behind the scenes. But, as Vohs and other Citizens of the Year can attest, it's difficult to elude accolades after word of one's magnanimous gestures gets out.
Shull's have included his service as a Shawnee Mission Medical Center trustee and member of the Shawnee Mission Medical Center Foundation. He has also served on the Johnson County Community College Foundation board, which honored him and his wife, Barbara, as Johnson Countians of the Year for 2007. The couple also were honored as Volunteers of the Year in 2000 by the Volunteer Center of Johnson County. In addition to donating their time, the Shulls have donated funds for various scholarships and public causes, including JCCC.
According to Brad Shull, some questioned his father's decision to move his Ford dealership from Mission to Shawnee 40 years ago, when there were still dirt roads in the city. But he said Dick Shull always maintained that "there's no better place to work in Johnson County than Shawnee."
Located at 11501 Shawnee Mission Parkway, Shawnee Mission Ford remains one of Shawnee's top employers. It currently employs 110.
Two other top honorees recognized during Saturday's annual dinner received their awards during the Shawnee Chamber's Volunteer Appreciation Luncheon in December.
Paul Ridgway, who operates an American Family Insurance agency in Shawnee, was named the 2012 Ambassador of the Year for his committee leadership and participation, for his support for the community and chamber events, and for being an overall ambassador for the organization.
Kim Scheid of Avalon Specialties Inc. received the 2012 Chamber Star Award as a "volunteer who shines with extraordinary measures of service and commitment to the Shawnee Chamber of Commerce."