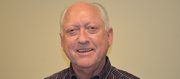 As the saying goes, you can take the boy out of the South, but you can't take the South out of the boy. While that aphorism hasn't been around as long as Stone Mountain — which is located, appropriately, in Stone Mountain, Ga. — it's just about as enduring.
I was born in Atlanta on April 12, 1943. Yes, I was born a Southerner, and as I travel through the autumn of my life I still retain a strong Southern identity. I like cornbread, sweet tea, fried okra, collard greens, grits and pecan pie. I root for the Atlanta Braves and the Georgia Tech Yellow Jackets. But I reckon I have spent less than a quarter of my time on earth living in the South.
And therein lies a curious anomaly. I am the only member of my family on both my father's side and my mother's side to ever leave the South. Except for a four-year stint in the Air Force, I have lived in Kansas since 1962 and married a native Kansas girl. I am an alumnus of K-State. Both of our children were born in Kansas. Fact is, I have lived in Kansas longer than most native Kansans who never lived anywhere else.

So why is a big part of me still a Southerner? That question can best be answered with a counter-question: What makes a person who they are as perceived by themselves and others? Why do we define ourselves by identifying with a brand, a religion, a college, a state, a nationality, a race of people, a political party, a profession, even a gender? Because it's a simple and convenient way to convey to others our attitudes, beliefs, persuasions, biases, sentiments and ideals. And it gives us a sense of belonging to a group that shares our alignment with all of these things. Since my formative years were spent in the South, all my early exposure to people, things and places was ineradicably imprinted on me.

However, as I matured into adulthood and transitioned to a Midwest culture, I began to assimilate the ways and values of the people around me. While I have retained many of the customs and the more genteel traditions of the South, I have embraced those elements that constitute the bedrock of Midwest life: a strong work ethic, the power of self-determination, a sense of honesty and fair-play, an uncompromising fidelity to family values, man's symbiotic partnership with the rich earth that is the breadbasket of the world, and long, straight highways.

Midwesterners are honorable people whose words are as true as a Kaw Indian's arrow, who are as dependable as a John Deere tractor and whose morality is as unbending as the crosses that adorn their churches.
I am, by virtue of my birth, and unapologetically, a son of the South. It's in my blood and it can't be filtered out. But I am, by adoption, a kindred spirit of the Plains. Does this dual sense of identity create some conflict within me? Not at all. I'm pretty content integrating all my life experiences into my persona. They have made me indelibly and irreversibly who I am.
I have a brother who lives in Buford, Ga. He asks me if I'll ever come back home. "Yes, to visit," I politely reply. I don't have the heart to tell him I'm already home.
— Chuck Scott, a Shawnee resident, is a monthly guest columnist for The Dispatch.