Task of starting anew after tourney run not new to
MVHS

girls coach McFall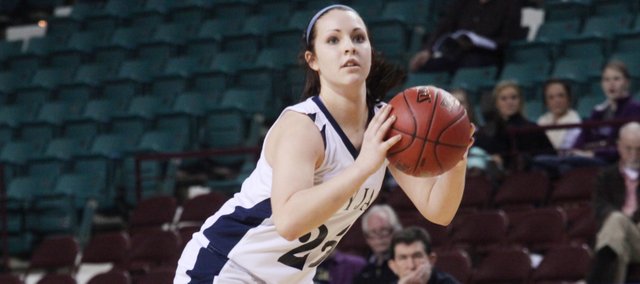 It's the last night of a summer league stretch that would make lesser competition crumble.

Most of the Sunflower League fills the courts at Shawnee Mission South, along with 5A state champion St. Thomas Aquinas — a bunch of bruisers.
After their last game, an overtime victory against Olathe Northwest, Mill Valley girls basketball coach John McFall hands his players ice cream and ask who's coming to the next practice. He doesn't intend for basketball to consume their lives, but if a player can make time for it, they should make every effort to attend. Almost all of them said they'd be there.

Among these 6A schools and other elite programs, it's easy to assume Mill Valley would fit right in. The Jaguars came within one point of Aquinas in the championship game, after all. But considering what they lost and the youth of their roster, isn't this asking a bit too much? Not to a coach like McFall.
"Now you've seen them," he told his team. "If you want to be good, this is the level you have to play at."
After the players disperse, McFall escapes from the stuffy hallway and takes a seat on the steps outside the school. He's got a story to tell. But first, note that most of the key players that took Mill Valley to the championship have to be replaced: MacKenzie Conklin, McKenzie Koch, Tanner Tripp, Brooklyn Sloop and Stephanie Lichtenauer.

That leaves just one retuning letterwinner on the roster in Carly Eaton, next year's senior leader by default. The rest are former jayvee or freshmen players who are just learning the offense for the first time.
"Last year, June 1, everybody knew their role," McFall said. "We don't even know who should be playing."
His coaching method is simple: don't worry about wins and losses, just play good basketball and everything else will eventually will fall into place. It has worked everywhere McFall has coached but now it looks as if there has to be a little bit of a rebuilding process before Mill Valley talks about state tournaments. Or maybe not, as anecdotal evidence would suggest.
McFall began to talk about his Olathe South championships in 1997 and 2004 and having to "rebuild" after each. He remembered every significant record, score and stat, as if he would someday resort back to that information. Such as right now.
After the 1997 championship, he graduated five players from his seven-man rotation. One transferred and the last was unreliable. There was no leadership to lean on.
"We lost four games in a row," McFall said. "We reached a point where I sat down with my assistants and I said, 'I am so frustrated. I don't even know who to play.'"
So they all ranked the top five players on the team. McFall's son, Jeremy, was consistently at the top of everyone's list. He was only a sophomore but he led the team in scoring. He was also coming off the bench. McFall was just trying to be an unbiased father, almost to a fault.
He got over that, starting those best five and after a couple of games, that team took off. The key: defined roles.
The 2005 season was less of an obstacle. After four players of his six-man rotation graduated from the 2004 championship team, he was left with his youngest son and sixth man to lead.
"The next year, everybody thought they were going to kick our butts," McFall said. "We went 15-6."
To know that he has been through this before, it's hard to count Mill Valley out. That's not to say there won't be a few bruises along the way. Eaton has been doing her part to encourage and help her new teammates grow.
"We're really young. REALLY young," Eaton said. "Ever since our first game, when we weren't doing very well, now we can put things together. We're actually looking more like a team now."
McFall isn't about all the preseason fluff anyway, good or bad. The Jaguars have vastly improved in the few games they have played and they will hold more practices later this summer to help define roles, but it's evident by watching some summer games the offense needs work.

Even if people have low expectations, it means nothing because no real games have been played yet. And that's just fine. McFall usually has a way of working things out.
"I've had total buy-in since I've walked in here," he said. "And that's the key. If they buy-in, hopefully we can get a lot of mileage out of it."