Olympic wrestler brings weeklong camp to
SM

Northwest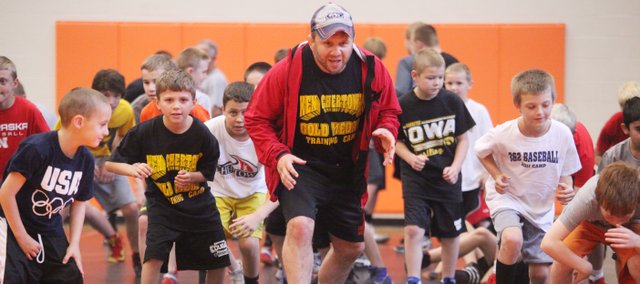 With experience in both raising children and coaching high school wrestlers, Howard Newcomb was confident in making one analogy toward the end of a weeklong wrestling camp hosted by Olympian Ken Chertow earlier this month.
SM Northwest's wrestling coach stood near a merchandise table inside the school's auxiliary gym as Chertow and coaches like Brad Simma — head coach of the Cougar Kids Club — and several additional tenured coaches instructed a group that included both novice youth wrestlers and members of the SM Northwest wrestling team.
Newcomb's own son, Zach Newcomb, a junior-to-be, had already said he picked up a few new moves. Difficult not to, considering Chertow's 25 years experience in traveling the country to teach the sport. But equally imperative was Chertow's echoing of fundamental skills and techniques coaches like Newcomb espouse year round.
"Probably the main thing with most camps and clinics is they just reinforce everything we've been teaching," Newcomb said. "It's kind of like a parent to a kid. They're not going to listen to the parent, but they'll listen to somebody else that tells them same thing."
Chertow, a three-time NCAA All-American at Penn State and wrestler on the 1988 Seoul Summer Olympics, visited SM Northwest from May 28 to June 1 as part of a 21-state summer tour.
Back in Pennsylvania, Chertow said, wrestling is ingrained in the culture. But often in areas like Shawnee, it is a second or third sport for many. That isn't to say the quality of campers lagged in the eyes of the camp's instructor.
"This is a very motivated group," Chertow said. "There are a lot of serious kids from the younger guys up to teenagers; these kids are motivated to be successful."
Newcomb said up to 15 of his high school wrestlers participated in the camp and that he hoped to see even more at future visits.
The importance of the camp was highlighted by the following week's football camp at SM Northwest, at which wrestlers like Zach Newcomb and LaPhonso McKinnis would soon turn attention toward preparing for the fall season.
Also an SM Northwest assistant football coach, Howard Newcomb said that if his wrestlers did nothing else all summer, just one week spent picking up a new technique or honing a specific part of their game can translate into a greater difference come winter. Take McKinnis, the Class 6A 170-pound champion. Part of his championship victory came on the strength of an ankle pick maneuver he worked on in the previous offseason.
"Offseason work is what helps us get better," Zach Newcomb said. "You'll only get so far during the season, and if that's all you do you're not going to become great."
Simma, who coaches the Cougar Kids Club's K-8 wrestlers, has helped Chertow coach camps in the Kansas City area for five years, this being the first year the camp has come to SM Northwest.
"For us it's great to be able to bring someone in with name recognition," Simma said. "And there are guys who are three- to four-time All-Americans at the NCAA level coaching and teaching here. It's great experience for the kids. They get to see guys who were in the trenches battling and wrestling at the highest level."