They made it: Mill Valley girls advance to program's first state tournament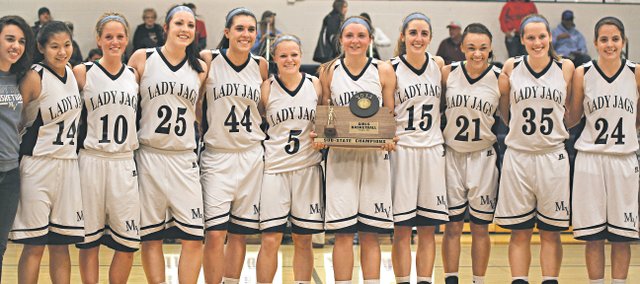 The tears started early.
Minutes before the Mill Valley girls basketball team's 46-21 sub-state title win against Shawnee Heights was made final Friday, the core of the school's first-ever state qualifier sat on the bench soaking in its final home game.
"This is one of those moments," Mill Valley coach John McFall told them. "Enjoy it. Tonight's the night you enjoy."
Seniors Tanner Tripp, Stephanie Lichtenauer and Mackenzie Conklin wrapped arms across each other's shoulders, smiling and red with emotion. Senior McKenzie Koch and, later, Brooklyn Sloop, joined them. And senior Molly Miller finished the game on the court, sprinting to her teammates when it had ended.
Known for ignoring the subject throughout the regular season, McFall could finally talk about state with his girls. And six of those girls, the most of whom had played together since before middle school, finally made it — doing so on their home court.
Once Mill Valley (20-1) took a 26-9 lead into halftime, state became as real a possibility as it ever had been for the Jaguars. Miller would later describe it as a "roller coaster:" they wanted to get excited but not too cocky.
"Just being able to go through this journey with everyone is great," she said.
Tripp choked back tears between posing for photos with her teammates. She finished the night tied with Conklin for a team-high 16 points, each continuing their trademark efficiency from three-point range.
"We really wanted to leave a mark on this high school," Tripp said.
Conklin added: "We've been dreaming about this."
But early on, McFall pointed out, the Jaguars still had a few jitters. Shots didn't fall early, but that became a point made moot by the team's defense — it's staple, McFall said.
"Everybody who walks on the floor guards," McFall said.
In 21 games, the Jaguars have given up more than 40 points just three times, one game being in overtime after tying 38-38 in regulation.
On Friday, Mill Valley came out of halftime holding the Thunderbirds to just two points in the third quarter. One year ago, when the Jaguars finished 18-4, they watched a halftime lead become second-half heartbreak in the sub-state final.
"This year we didn't want to feel that way," said Koch, who finished with five points and seven rebounds.
Sloop added: "We didn't want to watch anybody else take the trophy from us this year."
The Jaguars begin their first Class 5A state tournament as the No. 2 seed and will meet No. 7 Salina-South (16-5) at 6:30 p.m. Wednesday at the Topeka Expocentre.
In the days leading up to Saturday's sub-state final, Lichtenauer took a phone call from a reporter at school, interviewing not far from McFall. When it the interview was over, she flashed McFall a smile.
"I want to practice on Saturday," she told him, referring to the day after sub-state's conclusion.
"We earned the right to practice on Saturday," McFall later said, a sub-state trophy tucked under his arm less than a half hour after winning it.