'

Antique pop' duo Victor

&

Penny breathes new life into old standards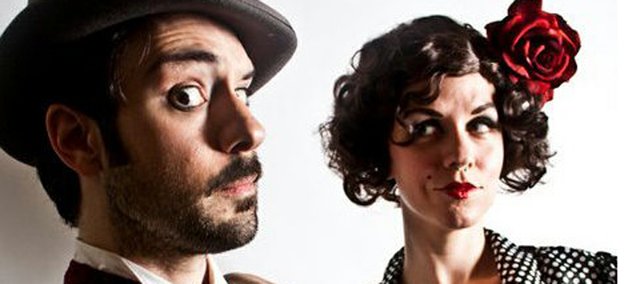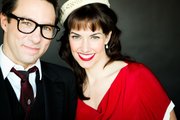 History tells us how difficult life was for those living in the United States in the early part of the 20th century.
But out of a dust bowl and one Great Depression came some of the most joyful music, said Erin McGrane. And that's the music she and her musical partner, Jeff Freling, have been celebrating for the past couple of years through their duo, Victor & Penny. They are set to perform 2 p.m. Saturday at Shawnee's Town Hall
McGrane and Freling call their style of music antique pop — it's also the name of their first 2011 album — and performances feature the two clad in vintage clothing and singing covers of early songs about love and optimism. Performance highlights also include a ukulele played by McGrane and Django Reinhardt-inspired guitar improvisation by Freling.
"It's basically the top 40 before we were calling it top 40. This is popular music from 60 or 80 or even 100 years ago," McGrane said. "Really, what we're doing is the origins of popular music. … But it's super fun and I think what people take away from our shows is the energy's really fun."
Both from Kansas City, the two originally were brought together by more modern-day rock music.
"We used to be in rock bands in the late '80s," Freling recalled. McGrane was in a band called Blue Museum. and Freling's band at the time was The Mongol Beach Party. "So our two groups played a lot of shows together back in the days."
Freling moved to Chicago in 1994, where he landed a job playing guitar for the Blue Man Group. He said he and McGrane didn't reconnect again until 2008. Victor & Penny was born as a side project a couple of years later.
"It happened because I was emceeing an event and I'd asked Jeff to come with me and do some accompaniment with me," McGrane said. "One of the songs we did was a song from a (1930s) musical and it just went really well."
They decided to work on some more songs from that era together, learning 11 songs in one night, McGrane recalled. She said working together with Freling as a duo felt right from the start.
"There's something about ... my ukulele and the harmony singing and the beautiful guitar work that Jeff brings to the group; it's just, that's it," McGrane said. "That's the ticket right there. That's the magic."
And there's more than meets the eye to the music itself. McGrane said happy-go-lucky songs from the '20s and '30s were written during a very depressing time in American history. "So when you look at (the songs) through the lens of these are depression-era people that are saying a smile will go a long, long way, they mean something completely different," she said.
Plus, "these songs have unforgettable melodies; some of the best written melodies in the American songbook," she said.
In February of last year, the two decided to take their act on the road full time, playing close to 150 shows in 22 states. Freling even left his job with the Blue Man Group, which he had been with for 12 years as a guitarist, to do it.
"It was a fantastic gig and a great job," he said, but after doing the same thing for 12 years, "I was just ready for a change and this seemed like a great opportunity."
Since then, the two have put out another album, "Side By Side: Songs For Kids Of All Ages," and they are currently working on a new album. It will feature tunes inspired by that era but written by McGrane and Freling, as well as lesser-known material.
"We're trying to dig a little deeper and find some unknown gems," McGrane said, "and the new album that we're working on is chock full of that."
For the past year, the two have been on the road more often than not, McGrane said, and there is more extensive touring in the near future — they will head to the East Coast later this month.
"It's more work than everyone thinks it is, but it's incredibly rewarding," Freling said of touring across the country. "And it's actually just honestly something both of us have wanted to do for both of our professional lives and haven't had a chance to do, and now we've got it."
Meanwhile, McGrane said they were looking forward to their first-ever performance in Shawnee this weekend. The show will also feature the Kansas City-based performance artist duo Blake & Cherry.
"I think everybody's going to really enjoy it," she said. "We're hoping to put together some special numbers for Shawnee and for this concert."