New school brings happy feet to Shawnee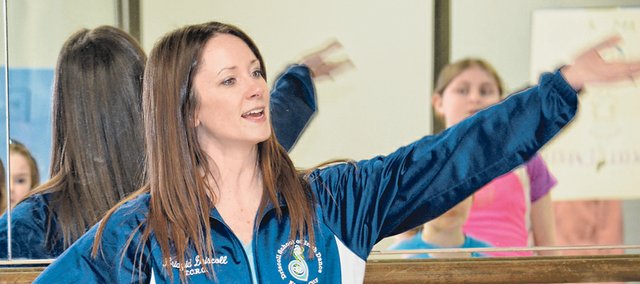 Asked why she loves Irish dance, Bridgid Driscoll paused, then ruled out her Gaelic heritage as the main reason.
"I guess because it makes me feel happy," she said of the folk-dancing genre — its jigs, reels and other lively forms characterized by their rapid leg movements and upper-body control.
Driscoll fell in love with Irish dance as a 5-year-old and 25 years later has realized her dream of teaching it to others full-time in her own studio.
In January, after teaching her own classes for a couple of years at the Kansas City Irish Center and an Overland Park fitness club, she opened the Driscoll School of Irish Dance. The studio, whose dancers will be featured in the Shawnee St. Patrick's Parade at 1 p.m. Sunday, is located at 12418 W. 62nd Terrace.
There, classes for everyone from 3-year-olds to adults are offered, with students' goals ranging from picking up a new social skill to reaching championship competition levels. But judging from participants in an under-13 class last Wednesday, a goal of most youngsters involved is to have fun.
By contrast, Driscoll was dragged into Irish dance almost kicking and screaming as a child. She lived in upstate New York at the time, and her parents wanted her to accompany them to a venue featuring bagpipe music.
"I remember throwing a fit because I thought bagpipes were too loud and I didn't want to listen to them," she said. "But they had Irish dancers there, and it was the coolest thing I'd ever seen. I'd wanted to be a ballerina before that. But this was like Judy Garland skipping down the yellow brick road."
Ending in Kansas, Driscoll's yellow brick road wound through Irish dance schools in the Boston area, Cincinnati and Kansas City. After her parents moved to this area, she enrolled in what was then the Kansas City area's only Irish dance school, the O'Riada-McCarty-Manning Academy of Irish Dance. And while studying there following her sophomore year at St. Thomas Aquinas High School, she was asked to fill in as a teacher.
"So I helped out and fell in love with teaching," Driscoll said.
She subsequently completed the steps necessary to become a certified instructor, including comprehensive exams in Chicago and Washington, D.C. And in December 2008, she was awarded her certification by An Coimisiun le Rinci Gaelacha, the Irish dance governing body in Dublin.
Having danced with Irish artists such as The Chieftains and Eileen Ivers and competed at a championship level, Driscoll went on to establish the Driscoll Dancers performance group in April 2010 and began teaching her own classes that June. She also served as principal dancer at the Ragland Road Irish Pub in the Kansas City Power & Light District for two years. After it closed in late 2011, she began focusing on opening her own studio. And after an eight-month search, she found her current Shawnee location, less than a mile from her home.
Irish dance studios began flourishing across America after Michael Flatley and Jean Butler choreographed "Riverdance," the famous Irish dance show, in 1994, Driscoll said. Still, nearly two decades later, she was worried that the Kansas City area might not be ready for its second Irish dance school.
Judging from the response from the Shawnee area, she needn't have worried. "Both schools seem to be doing quite well," Driscoll said. "I've been able to do really well on my own."
Jennie Cronin of Leawood, whose daughters, Brigid, 6, and Mary, 7, are students at the Shawnee school, said her family became impressed with Driscoll's teaching skills during a Kansas City Irish Fest a couple of years ago. And she is excited about the performance outlets Driscoll's new school affords, especially during this "high holy season." In addition to performing during Shawnee's parade this Sunday, Driscoll's students will appear in the Brookside and downtown Kansas City St. Patrick's parades.