Photo Gallery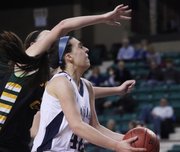 The Mill Valley girls basketball team held on to win its first ever state tournament game on Wednesday, a 38-28 victory against Salina South to advance to the 5A semifinals on Friday in Topeka.
Mill Valley (38)
Mackenzie Conklin 0-4 0-0 0
Molly Miller 0-0 2-2 2
McKenzie Koch 1-4 4-5 6
Carly Eaton 2-7 1-1 5
Tanner Tripp 3-11 0-0 9
Brooklyn Sloop 1-1 0-0 2
Stephanie Lichtenauer 3-9 6-6 14
Salina South (28)
Janai Mitchell 1-3 2-2 4
Teryn Holloway 0-0 0-0 0
Megan Holloway 5-15 0-0 10
Emilee Holloway 1-4 0-0 2
Emily Webb 2-2 0-0 5
Cassidy Cook 2-6 1-2 5
Bayli Huffman 0-0 0-0 0
McKenzie Haynes 1-2 0-0 2
Mill Valley 8 3 8 19 — 38
Salina South 2 8 10 8 — 28
Three-point field goals: Mill Valley 5-16 (Tripp 3, Lichtenauer 2)
Turnovers: Mill Valley 8, Salina South 14
Topeka — After Mill Valley senior Tanner Tripp stepped up for a three-point shot to give the Jaguars their first points of the game, she smiled at fellow senior Stephanie Lichtenauer as they reversed court to return on defense.
She'd later say that basket, and the subsequent three-pointer that followed, calmed her down in her first trip to the state tournament stage. If she could know how hard such baskets — any baskets — would be to come by on Wednesday against Salina South in the Class 5A state quarterfinals at the Kansas Expocentre, she may have smiled even wider.
The Jaguars (21-1) defeated the Cougars (16-6), 38-28, to win the program's first state tournament game and advance to Friday's state semifinal game.
"It was really nerve-wracking," Tripp said of her team's pre-game jitters. "But I feel like it almost helped us, though. It helped get our adrenaline going. We weren't lazy or anything; we got going right off the bat."
Mill Valley would need the energy to keep the game from getting out of hand after a 10-0 run by the Cougars in the second quarter erased all memory of the Jaguars' 8-2 start. Lichtenauer's three to close the first half and return an 11-10 lead to Mill Valley ended a more than seven-minute drought. Mill Valley finished the first half having shot just 3 of 18 from the floor.
"It wasn't a pretty game," coach John McFall said, "but we guard. And that kept us in a position to strike."
For all their own first-half shooting struggles, the Jaguars meanwhile held the Cougars to just 3 of 14 from the floor and 1 of 5 from three-point range.
"If our shots aren't falling, we always pick it up on defense," Tripp said. "That's just what we do."
A back and forth third quarter sent the Jaguars into the final frame down, 20-19. For every layup or offensive rebound Mill Valley missed, Salina South seemed to have an answer on the other end. The Cougars outscored the Jaguars, 14-2, in the paint and out-rebounded Mill Valley, 26-22, on the night.
"I think they were really prepared for us and knew a lot of our stuff," senior McKenzie Koch said. "I don't think we expected someone we'd never seen before to know us that well."
The game soon turned on a pair of and-ones by Carly Eaton and McKenzie Koch, the latter giving the Jaguars' their biggest lead since the first quarter at 27-20 with 5:08 left. Despite recording her fourth foul with 2:18 left, Koch responded with a steal and drawing a foul on the other end — earning the label of a "kick butt" performance by Tripp.
The Jaguars improved their shooting in the second half, going 7 of 18 from the floor and 2 of 6 from three-point range. But it was at the free throw line — 13 of 14 as a team — where the Jaguars pulled away on Wednesday. The Jaguars closed the game going 11 of 12 from the line in the fourth quarter.
Lichtenauer led the Jaguars with 14 points and added six rebounds. She also went 6 of 6 from the line. Tripp finished with nine points, all coming from three-point range, and also recorded three steals. Koch and Eaton scored six and five points, respectively, all of their points coming in the fourth quarter.
After the game, the team slapped outstretched hands along the school's section's front row before returning to the locker room. McFall was the last to join them, but not before stealing a moment alone.
"That is so great for these young ladies," McFall said, his face red, head shaking.
He turned and put his hands to his face before turning back around and walking into his team's locker room.
The Jaguars will next play Kapaun Mt. Carmel (20-3) at 6:30 p.m. Friday in the semifinals. Kapaun defeated Bishop Miege, 54-41, on Wednesday. Also on Wednesday, top-seeded St. Thomas Aquinas survived a scare from No. 8 Leavenworth, winning in double overtime, 54-47. The Saints will play Newton at 3 p.m. Friday in the semifinals after Newton defeated Andover, 44-36, on Wednesday.