Not to be outdone, Mill Valley boys also reach Friday's state semifinals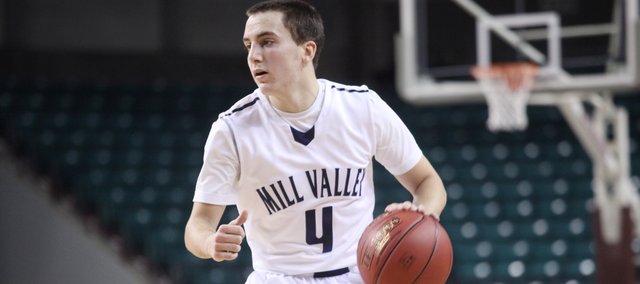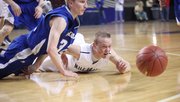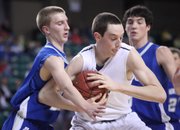 Box score
Mill Valley (56)
Kyle Kain 1-3 0-0 3
Staton Rebeck 0-0 0-0 0
Logan Koch 3-6 8-12 16
Wyatt Voorhes 4-9 4-4 14
Brett Hamilton 0-0 0-0 0
Patrick Muldoon 5-9 3-4 13
Nathan Stacy 3-7 2-4 10
Drew Boatwright 0-3 0-0 0
Austin Moylan 0-0 0-0 0
Andover (46)
Tyler Kvasnicka 2-5 0-0 6
Austin Beahm 2-3 1-2 5
Braden Carter 1-12 0-0 3
Bryant Klusener 1-1 0-0 2
Miles Lester 0-0 0-0 0
Ryan Bezdek 2-4 0-0 5
Adam DeKoning 5-11 4-4 14
Dallas Bruner 5-8 1-2 11
Dante Butler 0-0 0-0 0
Mill Valley 15 14 13 14
Andover 11 10 13 12
Three-point field goals: Mill Valley 7-17 (Koch 2, Voorhes 2, Stacy 2, Kain); Andover 4-15 (Kvasnicka 2, Carter, Bezdek)
Turnovers: Mill Valley 11, Andover 21
Topeka — Mill Valley boys basketball coach Justin Bogart wants to fill you in on something. Logan Koch, the 5-11 freshman running the point?
"He's not a freshman," Bogart said after Koch's team-high 16 points helped lead the Jaguars past Andover, 56-46, in the Class 5A state quarterfinals on Thursday. "He has savvy that he's gained from a number of years playing. He's an uncanny freshman — a freshman in name only."
The No. 4 Jaguars (19-3) overcame a 9-0 run by No. 5 Andover (17-6) at the start of the second half and regained a lead that only briefly left their grasp. Koch's second three-pointer of the night extended the Jaguars' eventually permanent lead in the third quarter and he went 6 of 8 from the free throw line — 8 of 12 on the night — to close out the game.
A rematch with No. 1 Shawnee Mission South (23-0) awaits Mill Valley back at the Kansas Expocentre. The Raiders handed the Jaguars a 58-39 loss on Dec. 14, and are one of just two teams to defeat Mill Valley this year.
On Thursday, after the Jaguars took a 29-21 halftime lead, their fortunes reversed early in the second half. Not only did the lead swing in Andover's favor, but junior Wyatt Voorhes picked up his third foul with plenty of game left to play.
"I told them to get tough," Bogart said of a third-quarter timeout. "Get tough on defense. That's where we really struggled early. We weren't the same those first few minutes of the third quarter."
Not long after that directive, a dish by senior Nathan Stacy to sophomore Patrick Muldoon gave the Jaguars a lead they wouldn't relinquish. Andover made it interesting late when a three-pointer with 1:16 left to play cut the Jaguars' lead to 40-36. But by that point, the Jaguars had put themselves in position to take care of business at the line, going 6 of 8 the rest of the way.
"We were ready," Bogart said of the Jaguars' first state appearance since 2006. "We were loose. We talked about in previous games that we played in games like these — we played in (regular season tournament) championships this year."
Voorhes went just 2 of 7 in the first half but went 2 of 2 in the second and 3 of 4 from the line to finish with 14 points. Meanwhile, Muldoon finished with 13 points off 5 of 9 shooting and added a team-high seven rebounds.
Stacy knocked down two three-pointers in the win and finished with 10 points off 3 of 7 shooting and added six rebounds and a team-high four assists.
The Trojans out-rebounded the Jaguars, 32-22, on Thursday, collecting 20 defensive rebounds to the Jaguars' six offensive boards. To that, Bogart offered a simple solution.
"If you don't let them take shots, there are no rebounds to get," Bogart said. "Obviously they were going to get shots up, we just needed to make sure they were tough shots."
The Trojans shot 10 of 22 in the second half and 18 of 44 for the game, but were held to just 2 of 10 from beyond the arc and weren't able to find their long-range shot as time came to a close.
Mill Valley finished 16 of 37 (43.2 percent) from the floor and 7 of 17 (41.2 percent) from three-point range.
The Jaguars will return to the Kansas Expocentre for a 4:45 p.m. semifinal against the Raiders.