Shawnee Mission school board appoints new superintendent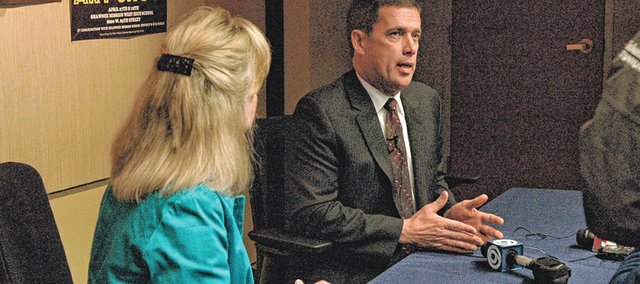 Jim Hinson of Independence, Mo., will be the new superintendent of schools for the Shawnee Mission school district.
Hinson currently serves as superintendent for the Independence Public School District in Independence, Mo. His appointment was unanimously approved Monday during the school board meeting. He takes over for Gene Johnson, who has been superintendent since 2008 and who is retiring this summer.
"The board was impressed by not only his credentials, but his professionalism, innovation, vision, leadership, integrity, communication skills, knowledge of changing demographics, budgetary challenges, collaboration with teachers and staff and his true heart for the community," said Patty Mach, Shawnee Mission school board president.
Hinson has 30 years of experience in education, serving as superintendent for 17 of those years. He has been superintendent in the Independence district for 11 years and formerly served as superintendent in two Missouri school districts.
Mach said Hinson was chosen out of about 50 applicants from 38 states for the position. The search began late last year after the board hired the Iowa-based school executive search firm Ray and Associates, Inc.
Hinson, who spoke briefly during the meeting after his appointment, said he sought out the position because of Shawnee Mission's "great tradition of academic excellence."
"One of the greatest things for me in watching the Shawnee Mission school district is the understanding you always do what's best for kids," he told board members. "We have to make some tough, tough decisions, but you've always done that in the best interest of kids and that's one of the primary reasons that we're now becoming part of your team, is you put kids first. And so I really cherish that."
Hinson said he would miss the students and the Independence community, but that "it was time for a change for all the right reasons." He echoed most public educators today by saying that school finance would be a main challenge to contend with next school year. But he said his first step after taking over the position July 1 would be to "really listen" to the concerns of students, teachers and staff in the district.
During the meeting, Mach credited the community response to an online survey, as well as community meetings, for being a significant contributor to the board's final decision.
"Our students, parents, employees and patrons started off the process of the selection of a superintendent by providing input into the characteristics that they wanted to see in the next leader of our schools," she said. "Our community has truly been a beacon for us as board members for that, and it was never more apparent to me than when the community's desired characteristics were found to basically mirror the board's vision."
She said the district was "sad to say goodbye" to Johnson, who began his employment with the district in 1986 as principal at the now-closed Don Bonjour Elementary School.
"But we are excited to start another journey," she said.
Hinson is husband to wife, June, and father to three grown children.
His final appointment is pending negotiation of his contract with the district, which the board plans to approve at a special meeting at 4 p.m. Wednesday, March 13, at the McEachen Administrative Center, 7235 Antioch Road, Overland Park.