Former Ward 1 council mates now pitted against each other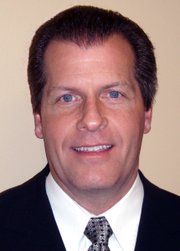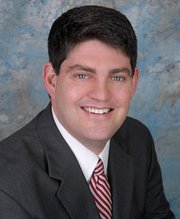 Ten years ago, Dan Pflumm and John Segale were sitting next to each other at City Council meetings as Shawnee's Ward 1 representatives.
Now they're squaring off for the same seat, currently held by Pflumm. Voters will decide the winner on April 2.
Pflumm, who has held his council seat since 2002, said he agreed with Segale on many issues during the two years they served Ward 2 together. For instance, they were both staunch supporters of improved roads and street maintenance in older parts of the city.
But there was one critical difference between them, said Pflumm, who who had never voted for a city tax increase as of last week. Segale, he said, is "absolutely no way" as fiscally conservative as him.
"His big deal was he was in favor of doing all the curbs and gutters, but he wanted to increase taxes to pay for it," Pflumm said. "We never had a vote on it. But he told me that. And I told him, 'Nope, I'm not going to support that.'"
Segale, who served on the City Council from 1997 to 2004 and as a Johnson County Commissioner from 2005 to 2009, agreed with Pflumm that taxes should be as low as possible. But he said Pflumm "has failed to prevent or offer any credible alternatives to the tax hikes that have been put on Shawnee taxpayers in the last eight years."
If he's elected, Segale said, he will support elimination of the 5 percent franchise tax on residential gas and electric bills, which costs homeowners about $150 a year and is not deductible from federal or state taxes. Segale proposes paying for the tax cut by using a portion of recently renegotiated landfill impact fees, which are being increased from $300,000 to $3 million a year.
Current policy calls for the landfill fees to be split equally between street maintenance and economic development activity. But Pflumm has advocated that a greater share be spent on street maintenance. Like Segale, he also supports eliminating the franchise tax, which the council voted to reinstate in 2009. But Pflumm proposes paying for the cut by making tweaks and cuts in the overall city budget.
He suggested the same approach as an alternative to a 17 percent property tax increase and drastic street maintenance cuts proposed to help the city weather the recent recession. But despite Pflumm's suggestion and "no" votes, the tax increase and street maintenance cuts were adopted.
"While he is not a bad person," Segale said of Pflumm, "he does not seem willing to engage in the hard work of compromise necessary for successful service in elected office. In his three terms, he has been largely ineffective in constructing majority consensus on moving our community forward or bringing new ideas for success of our community. We cannot afford Washington-style gridlock and discontent on our City Council."
Asked why he was running for the council again, Segale added that one reason was to "bring people together to get results through open and respectful debate that ends the petty bickering making our City Council a laughing stock and hurting our credibility with residents and businesses."
Pflumm said he was running to "make Shawnee a place where families can live, work and grow," in short, "a very successful community."
The 51-year-old president of DanCo Systems Inc., which sells and manufactures industrial instrumentation and controls, Pflumm said he had proven his dedication to those goals through recent investments in downtown Shawnee.
In 2011, he purchased the former headquarters of Shawnee State Bank, which his family owned a controlling interest in. It had been vacant several months before Pflumm bought it and moved DanCo there in December 2011. A few months later, he attracted Dodge City Beef to the building, preventing it from moving out of the city. And recently, Pflumm and several family members purchased Dodge City Beef, keeping its manager, Heidi Hullman-Davis, on as one of the owners.
According to Pflumm, retaining existing business, attracting new business and supporting redevelopment efforts are key to keeping the local economy growing, which is, in turn, key to preventing tax increases. Thus, he supports use of city economic development incentives where deemed necessary.
Segale, a 46-year-old computer systems management specialist at Cerner Corp., said he supports "economic development incentives in very limited applications."
"For example, I initiated the creation of the neighborhood revitalization plan for downtown Shawnee that gives homeowners and businesses a 90 percent, 10-year property tax discount on investments adding $5,000 or more to their property," Segale said.
But he does not support "the fire sale mentality that seems to exist in City Hall when it comes to tax breaks, he said. "Tax break mania," Segale said, signals "a lack of faith in the fundamental long-term value of our community" and "shifts the tax burden onto the majority, who get no tax breaks."