Candidate questionnaire: Cindy Neighbor, Shawnee Mission Board of Education, Position 6 (at-large)
Neighbor faces challenger Mark Read in the April 2 general election
The Dispatch sent written questionnaires to each of the two candidates in the race for the Position 6 seat on the Shawnee Mission Board of Education and is publishing their answers, unedited, online. Cindy Neighbor's responses are below.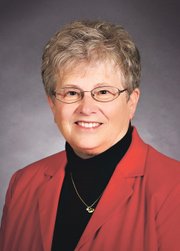 Biographical Information
Name: Cindy Neighbor
Age: 63
Occupation: Sedation and Insurance Coordinator for Dental Office
Family: Married 43 years to Jim Neighbor, 4 children and 4 grandchildren. Husband and children all graduates of Shawnee Mission North High School.
Professional experience: Retired Medical Administrator for Mulispecialty Group in Wyandotte and Johnson Counties in Kansas. Worked 9 years for Shawnee Mission School District-Special Ed, Secretary at Rising Star, Library at Hocker Grove, Tech Center at Indian Creek and Classified Personnel at Administration Building. Past owner of a computer bookkeeping company. Currently working at a Shawnee Dental office working with insurance and sedation patients.
Political and civic experience: Currently Vice-Chairman of the Johnson County Mental Health Board
Currently serving 16th year on the Shawnee Mission Board of Education
Served 13 years on the Shawnee Mission Advisory Board
Served in the Kansas House of Representatives for 6 years.
Served on Kansas Board of Indigent Defense Services
Served on State Board of Emergency Medical Services
Served on Board of Teacher Credentialing for the Kansas State Board of Education
Served on multiple PTA Boards as President and in other positions for over 18 years
Served on SMAC
Sustaining member of Junior League in WY and JO Counties. Worked with UCS, CASA and the Ronald McDonald House in conjunction with the Junior League.
Past President of the Kansas Association of School Boards
Education: Johnson County Community College
Kansas City, Kansas Community College
UMKC School of Dentistry – Sedation Certification
Questionnaire
Why did you decide to run?
As a current sitting member of the Board of Education of sixteen years, there are critical issues that need to be addressed. They require an individual who understands school finance and the budget restraints that are currently in place. Because education is being attacked by the state legislature, it is also extremely important that the Board of Education works as a team rather than as an individual.
Secondly, we are in the process of hiring a new Superintendent who will need the support of a cohesive board. From community involvement to the classroom, the support of the board is critical. My work is not yet done.
How do you feel about the current level of state funding?
School districts, by constitutional law, operate on a cash only basis. That means we must have the money in the bank. We can't use credit cards or IOU's for purchasing. Our fund balances are too low if we were to have a crisis. Next year we will not have enough in reserves to cover our nineteen million dollar monthly operating obligations.
Funding has continued to be cut, both from the federal government and the state legislature. While they state more money is being put into education, this statement is misleading. They are taking all funds, both state and federal, and adding those in the mix. Most of those funds can only be used in specified areas, such as special education or at-risk weightings, etc. The funds are going to KPERS to repay for money that has been taken from the fund to fill holes in the budget. Funds for the operational side of the budget have decreased substantially and the legislature continues to place unfunded mandates.
From some of the examples I have just mentioned, I believe that the current level of state funding is grossly inadequate.
What do you see as being some of the major challenges the Shawnee Mission school district is currently facing and how would you address those?
Sound funding for the future of the Shawnee Mission School District in order for this great district to grow and expand the quality of education our patrons expect is the first priority. The funding is a priority for us to continue to close the achievement gap and to provide competitive salaries to our highly qualified teachers. In order to achieve this we must continue to work with the legislature, but more importantly, educate our communities so they get more involved and let their voices be heard.
Secondly, we must have a smooth transition to common core standards that includes the training of our teachers to be prepared, along with our administrators. This transition must incorporate all staff and an understanding by the board members to communicate with our communities what is included in the common core standards. This falls in the strengthening of ability to better communicate and educate our constituents. We are already putting a lot of this information on our website and getting this information out through our PTA's. We must continue to be innovative in how we communicate with our constituents.
Thirdly, I would like to find a way to provide all day kindergarten for all of our students. This would provide the opportunity for all of our students to come to school ready to learn. All day kindergarten would also provide a stepping stone to closing the achievement gap. As a part of this we must continue to provide a safe school environment for all of our students. This will only happen if more funding is available.
Are you happy with the current level of student achievement in the district?
Shawnee Mission continues to make gains in student achievement, but we must not rest on our laurels. There is always room for improvement and that is always a goal of our school district. We must continue to make improvement in the achievement gaps while challenging our best and brightest.
We are constantly looking for ways to improve the educational excellence of our district.

What qualities do you bring to the table that would make you a more effective board member than your opponent?
I believe that my background outweighs my opponent during this critical juncture. Designing a new five year plan with a new superintendent is going to require an individual who is a team member. My opponent appears to have personal agenda's which certainly deserve attention, but are not critical at this time. He wants to have what Shawnee Mission has had but has had to cut because of funding. His current agenda would require more than 40 to 50 million dollars in new funding which our district does not currently have available.
Secondly, my legislative and budget knowledge are also much greater during this challenging time. The next couple of years is going to be some of the most challenging and requires a team that is working toward a common set of goals. During our most recent debate, I heard my opponent say "I", not "we". We must have a united board that believes in doing what is best for all children.
Do you think security in schools is being properly addresses by the district and, if not, what else would you like to see done?
Our district has always been forward thinking in addressing safety as a top priority. We have worked to evaluate on a continual basis best practices. Our schools have monitors in place to view access doors. We have continued to upgrade our buildings to make sure all safety measures have been taken.
Our most recent effort is at Rising Star which is currently placing doors that lock on every classroom and updating the entrance to the building. Our administration is working with a local Johnson County task force that is working with all entities regarding safe practices in a community environment.
How important is it for the district to invest in new technology, such as iPads and Smart Boards, for students and teachers?
Our community patrons, students and businesses have expressed to us the importance of educating our students to meet the needs of a global society. That certainly includes technology as a strong component in the mix. We already use Smart Boards in our schools and we are continually upgrading our computers. We must also understand that computers are a tool that must be a part of the overall educational process.
We also have a financial obligation to our constituents that we make smart decisions in the best use of technology because there is always going to be something on the market that will be presented as better but maybe has not been fully proven.
Specifically, how might you, as a school board member, benefit the district?
I have worked both inside the district and as a board member. I have a clear understanding of the day-to-day expectations of a classroom teacher, as well as the responsibility of our building administrators. Our highly qualified teachers are what make our district one of the best in the country! They are the ones in the classrooms facing the challenges every day. As one who has been in a classroom, I bring a different perspective to the board.
Secondly, I have served in the legislature and can bring that experience to the board. I believe that knowledge is beneficial on how the process works in Topeka and adds another perspective to our decision-making process.
Do you believe in being accessible to your patrons and how would you go about making that happen?
Having served for sixteen years, I know the importance of transparency and feel that it is extremely important is building trust. I have made it known that patrons are always welcome to call me at home or send emails. I continue to participate in community events and am always present to answer any questions patrons might have. If I do not have the information, I direct individuals to those that do have the information to make sure complete and correct information is provided.
I will continue to provide patrons with this same open process.
Do you think transparency is an important quality for a board of education to have? If so, what suggestions might you offer to help make the board of education as transparent as possible so that patrons have a clear understanding of what decisions are being made?
Yes.
At the current time, Shawnee Mission has a website that provides answers to how decisions are made and offers patrons the opportunity to email questions and concerns. It provides information regarding the agenda for school board meetings, as well as what is happening in the district. With the use of technology, we are able to provide much of this information in a cost effective manner.
We also provide a community newsletter to all patrons to keep them up-to-date, although the website is updated daily.
We are always looking for ways to be more transparent on issues, without stepping outside of what is required by law to be confidential which is sometimes hard for the public to understand.

More like this story