Candidate questionnaire: Mark Read, Shawnee Mission Board of Education, Position 6 (at-large)
Read faces incumbent Cindy Neighbor in the April 2 general election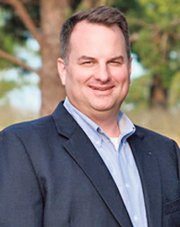 The Dispatch sent written questionnaires to each of the two candidates in the race for the Position 6 seat on the Shawnee Mission Board of Education and is publishing their answers, unedited, online. Mark Read's responses are below.
Biographical information
Name: Mark Read
Age: 45
Occupation: Software development and sale for the financial services sector
Family: Married, wife is a graduate of Shawnee Mission has taught mathematics and English at Shawnee Mission Northwest High School and currently teaches at Blue Valley Southwest High School. We have a son who is eight years old and attends Trailwood Elementary School.
Professional experience: For 25 years I have worked in the software development industry. My expertise is in the sale and development of enterprise wide financial systems used by international corporations to manage their financial reporting and operations. I have traveled to most continents and over 100 countries. I have seen firsthand the economic advantage countries have which have invested in educating their communities. I have also seen the effects of wide spread poverty and multi-generational illiteracy, and the challenges which those individuals face. My team management experience, as well as my background in information technology, financial reporting, and being held accountable to work within a revenue and expense budget will be significant as I work with the superintendent and school board to develop a new vision for the district.
Political and civic experience: This last summer I ran for the Kansas House of Representatives in the 20th district. I also serve as treasurer on the executive board for the Shawnee Mission Area Council, as well as the treasurer on the executive board for my son's elementary school PTA. I also currently serve on the Shawnee Mission School District's Nutrition Advisory Committee, and I serve on a standing committee with the Kansas Department of Education for teacher licensure reviews.
Education: B.B.A., in Computer Science and Marketing, Baylor University, 1992
Questionnaire
Why did you decide to run?
My wife and I have a third grader attending Trailwood Elementary School. As parents we have a focus on his success and a sense of urgency that the district is not addressing the fundamental shifts in demographics within the district and the resulting educational challenges that come with that. Two years ago I started attending school board meetings when the district was considering boundary changes as well as school closures. I did not feel that the board was asking detailed and insightful questions which would yield the answers to make long range, well informed decisions.
As a district we must confront the seismic changes which are occurring in the district. We must develop plans and strategies to adapt, and as a community develop a vision for what we expect out of our schools and then provide the resources to accomplish that.
The district has an aging infrastructure which not only must be maintained but I believe reinvested in. My son's school was the only elementary facility to have iPads last year, and that was only due to my efforts to apply for state grants. Kansas City, Kansas is now providing tablets to their students as well as other county districts. We are falling behind in addressing how students learn in today's high tech social media age. We must develop and implement the tools to provide the learning environment which both the staff and students require.
How do you feel about the current level of state funding?
The Shawnee Mission School District receives $2,590 per student less than the average of all districts in Kansas for state funding. Shawnee Mission also receives $275 less per student than the average for federal funding. There definitely are districts in Kansas which are receiving extraordinary amounts of funding per pupil, but the $4,393 which our district receives just barely covers the cost of student support and instruction.
When compared to all other districts in our county and across the state, we spend the lowest amount on instruction, student support, and administrative expense as a result of the reduced amount of funding we receive.

Many districts are hording reserve funds, but Shawnee Mission has spent down all reserve funds and now carries an 18 day surplus, not quite enough to cover one month's worth of expenses.
I support a Local Option Budget increase without a cap. It should be up to the voters of the school district to decide if they would like to provide additional educational funding and at what level.
What do you see as being some of the major challenges the Shawnee Mission school district is currently facing and how would you address those?
The exponential growth of students in the English Language Learners program as well as qualifying for Free or Reduced Meal Program is presenting the district with a student population which it has never before seen. We cannot teach in the same ways that we have for decades, because the students in front of us are different. We have schools now where incoming transfer students in the 5th grade cannot read. What is our response to that? We have schools where over 55 languages are spoken as their primary language. What is our strategy for engaging those children? We must adapt our teaching practices, retool our educators, and be adaptive and flexible in our academic approaches like we have not been required to in the past.
If we are to remain competitive with surrounding districts and private schools then we must make the required investments in technology and the expansion of signature programs. Opportunities for this include providing classrooms with tablet computers, smart boards and greater web access. The International Baccalaureate program prepares students to learn and compete in a global workforce. This program is currently running in three high schools and must be expanded to the two remaining schools so that all students have an equal opportunity for success. Foreign language instruction is available in some elementary schools, but not all. The board must address the varying resources and programs and make sure that all students have the same opportunities.
Other options exist such as building programs similar to Blue Valley's CAPS (Center for Advanced Professional Studies) program. If the district strives to be a thought leader and to regain the Blue Ribbon level of academic excellence, then we will need to develop the vision and actionable plan to achieve that.
Are you happy with the current level of student achievement in the district?
There is a wide diversity of achievement across the district with some schools having more than 60% of their students in the "exemplary" status, which is the highest possible level of academic achievement. We also have schools in the district with over half of their students performing in the bottom 40% on the state assessment tests.
Significant efforts must be made to make sure that all students, regardless of which school they attend, must have the same opportunities and resources to succeed. Some attendance areas now have all of their schools qualifying for federal Title I status, which indicates over half of the students in that school qualify for the Free or Reduced Meal Program. District wide we have seen exponential growth with now over 38% of the district students qualifying for this program. This designation is the number one leading indicator of how a student is likely to perform in a classroom.

We also now have over 11% of the student body qualifying for the English Language Learners (ELL) program. These two indicators point to a district that is in a rapid state of change and one that requires new and aggressive teaching methods to reach those students and address their learning challenges. We cannot let multiple "mini-districts" develop within Shawnee Mission where some are highly successful and others are left to fend for their own.
What qualities do you bring to the table that would make you a more effective board member than your opponent?
My career has been built in the financial services industry. I have managed global sales and development teams and that has provided me with the skill set to manage budgets such as the districts $230 million, and build vision and action plans which will be required for our district to move forward. I am a team builder and those resources will be necessary to lead the 3400 district employees to a higher level of execution. My personality is detailed and data oriented. I am motivated to identify the information which leads to better decision making and allows for others to be held accountable.
Do you think security in schools is being properly addressed by the district and, if not, what else would you like to see done?
I support the superintendent's efforts to be an active member of the new Defense of Our Schools Taskforce. The recommendations from that taskforce should be available this summer and will provide the board with a recommended toolkit of options to address campus security. Each building is going to have its own unique challenges due to layout and personnel resources. It would be my highest priority as a board member to assure that each student and staff member are safe and secure.
How important is it for the district to invest in newer technology, such as iPads and Smart Boards, for students and teachers?
In one word "critical," we are rapidly falling behind other districts and private schools in this area. The days of chalk boards and erasers are far behind us in a modern classroom. Over ¾ of today's students have a mobile phone and ¼ of those have a smart phone. The text books we purchase, the classroom assignments given, and interaction with teachers must all have a strategy in mind for how these can be best utilized in a rapidly evolving environment.

All Common Core testing will eliminate multiple choice questions. Moving forward all questions will be open ended and requires the student to type in their answer. Those students with quality keyboard training and experience in multimedia will have a distinct advantage over other students.
Specifically, how might you, as a school board member, benefit the district?
Currently only 1 of the 7 school board members has a child that attends a school in the district. Every decision made, every hearing and policy coming before me will be given the focus and urgency that all 28,000 district students are counting on. The board needs to make the right decisions and take those actions which will have an immediate and long term benefit to all of the students and their educational outcome.
I am active in the community and I recognize that the best ideas will come from the parents and patrons of the district. I will actively work to build an environment which encourages all stake holders to provide their perspective and assure that they are included in the decision making process.
Do you believe in being accessible to your patrons and how would you go about making that happen?
The at-large school board position is elected by the 145,000 registered voters of Shawnee Mission. As an elected official we are bound to be held accountable by the voters and patrons of the district. This process starts with having board meetings which are conducive to parents attending and actively participating in. It also involves being available to meet individually with parents, PTA groups, as well as other elected leaders to both hear their concerns but also advocate on behalf of the district.
Do you think transparency is an important quality for a board of education to have? If so, what suggestions might you offer to help make the board of education as transparent as possible so that patrons have a clear understanding of what decisions are being made?
I do not support the current process of each board member individually meeting privately with the superintendent each month and then have document packages provided to the board members which are not available to the public. If a discussion needs to take place then that discussion needs to take place in the light of day with all board members present and also in the presence of the public. Other than human resource and personnel topics, all other information given to a board member should be available to the public and given well in advance of any board meetings.
More like this story