Open for business: Shawnee grabbing attention of outside development world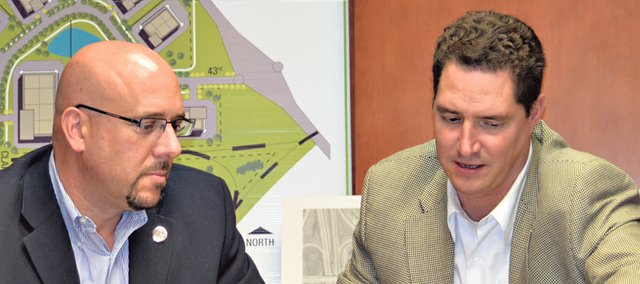 Shawnee has long faced "a perception challenge" in trying to attract commercial development and new employers, Andrew Nave says.
Despite occasional successes such as the Perimeter Park industrial development and Shawnee Station retail center, the city has been perceived as an insular bedroom community not much interested in outside business and development, said Nave, executive director of the Shawnee Economic Development Council.
And on top of the perception challenge came the Perceptive debacle. Nave's darkest day in his current post arrived on June 1 last year, when Perceptive Software announced it would be moving its headquarters — and nearly 700 jobs — from Shawnee to Lenexa. Outsiders wouldn't realize how aggressively Shawnee leaders campaigned to keep the firm, only that one of its leading employers had decided to split, Nave realized.
From that low point, however, Shawnee's reputation in the regional economic development community has soared. Buoyed by innovative new carrots and a City Council that sees merit in dangling them, the former truck farming community is finally getting the word out that its 43-square-mile land mass is open for business. And businesses, developers and real estate brokers are responding.
'Open for business'
"I think Shawnee's got it figured out," said Whitney Kerr Jr., who heads the industrial real estate department at Cassidy Turley's Kansas City, Mo., office. "They've got a very pro-business attitude. Despite what others may think, business owners feel they are paying their fair share of taxes. So when you have someone like Shawnee come in with an aggressive incentive program that tells everybody, 'We're open for business; we appreciate you; come to Shawnee,' I think it's going to work."
Kerr, whose father was one of the developers of the iconic Corporate Woods office park in Overland Park, will be brokering space in the new Westlink Business Center, a $50 million project near 43rd Street and Kansas Highway 7 that will include seven industrial buildings totaling about 1.1 million square feet. Its developers, Airtex Inc., plan to use two of the buildings for expansion of their De Soto-based Engineered Air operation. But they will start the development with a 160,000-square-foot speculative building, giving Nave something he has had precious little of: available product to show new business prospects.
Airtex decided to move forward with the project after the Shawnee City Council's recent vote to suspend the city's excise tax on new development. That will save Airtex $764,366. In addition, the City Council approved a 10-year, 80 percent property tax abatement for Airtex's initial investment in Westlink: $9.5 million to construct the first spec building and complete infrastructure improvements for the entire project.
In addition to the excise tax suspension and aggressive abatement approach, Kerr said, Shawnee has distinguished itself by earmarking half of its recently renegotiated landfill impact fees, or about $1.5 million a year, for a new Economic Development Fund. It is already financing new tools like the SEED program, which provides forgivable loans to new businesses based on the jobs they bring to town, among other factors. Over the past two months, the City Council has used the SEED program to attract three new businesses and about 80 new jobs to a site adjacent to the soon-to-be vacated Perceptive Software building. And two of those businesses, Clarence M. Kelley and Associates and Sur Tec, are coming from Lenexa.
"Nobody in Johnson County can match what Shawnee's prepared to do now in terms of the SEED program, excise tax suspension and abatements," Kerr said. "Everywhere else in Johnson County, the abatement (for industrial development) is 50 percent, which they might push up to 55 or 60 percent."
An overlooked asset
Jill McCarthy, vice president of business development for the Kansas City Area Development Council, which represents the a two-state, 18-county region, agreed that Shawnee is starting to stand out, and she can't help smiling about it. That's because McCarthy worked for Shawnee in the 1990s, leaving as its economic development director in 1998.
According to McCarthy, the region has tended to overlook Shawnee's labor pool, which has attracted longtime employers such as the North American headquarters of Bayer Animal Health. Even the Perceptive Software story is a positive one if looked at from the labor angle, she said.
"Shawnee set the tone for Perceptive Software, which was able to grow and attract talent there," she said. "We get great reports from Shawnee employers about how productive, skilled and educated their workforces are."
Unfortunately for Shawnee, Perceptive Software outgrew its local headquarters and, under the ownership of a new parent company, chose to expand in Lenexa, which offered the firm $26 million worth of incentives to help jump-start the recession-stalled Lenexa City Center development. One consolation for Shawnee, however, will be the fact that the building Perceptive Software is vacating will give Nave some product to show office-sector prospects, McCarthy said.
"You have to have product to get looks," she said, "and that's the piece Shawnee has been missing for so many years."
Shawnee City Councilman Jeff Vaught, a commercial real estate broker who recently moved his business, The Vaught Group, to Shawnee, said multiple factors are conspiring to position Shawnee for a development boom.
"The market's finally coming around following the recession," he said. "We have a forward-thinking governing body and some great economic development tools in place. And the public sentiment is behind us. Our surveys have told us that people want more restaurants and retail opportunities. They want to see the city grow."
In the past, economic development critics on the council or in the audience at its meetings have characterized incentives as a mere means to line developers' pockets. But according to Vaught, current city leaders have done a good job of communicating the real goals of economic development: creating local jobs and reducing the burden on residential taxpayers.
Broadening the tax base
Currently, commercial properties in Shawnee account for only 23.1 percent of the city's real estate property tax base. Vaught has said he wants to see that number top 40 percent, and he believes incentives are needed to get there.
"They're necessary evils," Vaught said. "Over time, we'll see cities starting to pull back like they did during the runaway market prior to the recession, when there weren't nearly the incentives. But there's a lot of hunger for development now, and we've got to be competitive."
That's not to say that the city will grant any incentive request, Vaught added. During the battle to retain Perceptive Software, he said, Nave advised that Shawnee had thrown everything in its economic development toolbox at the deal and still might lose the business if it didn't extend a property tax abatement on the headquarters building for another 10 years. Vaught said, "No way."
"We give abatements based on the prospect of receiving the full property tax revenue in 10 years," Vaught said. "But if we had reabated that building, we would never have gotten another building out of abatement."
Developers won't be seeing many more 10-year, 80 percent abatements, either, Vaught said, though officials felt the Airtex abatement was needed to help get the pump primed.
Among those who supported that abatement was Councilman Neal Sawyer, who has been critical of some incentives. Sawyer said he voted against sales tax surcharges recently imposed on shoppers at 10 Quivira Plaza and Shawnee Parkway Plaza to help finance redevelopment of those shopping centers "because they put tax burden on the citizens." But he supported the excise tax suspension, which was proposed by Vaught; the Airtax abatement; and $3.25 million in tax-increment financing, or TIF, for Shawnee Parkway Plaza.
TIF, which also has been requested to finance $3.8 million of a proposed $41.3 million townhome and retail project at 55th Street and K-7, allows a portion of new tax revenue generated by project improvements to be used to pay eligible development expenses.
"I don't believe tax abatements or TIFs are ever going to go away," Sawyer said. But he believes they could be granted more wisely if the city had a better system of monitoring and measuring their actual long-term benefits. The Shawnee City Council Committee will discuss development of such a system during its May 7 meeting.
"If it's a great deal, fine, let's track it and prove that it's a great deal," Sawyer said. "You know, I get upset when certain people say I'm anti-development. I'm anything but that, but there's a fine like you've got to walk. I believe the citizens of Shawnee want development, but I don't think they want to be taxed to pay for it."
Nave said he's confident that won't happen. Cities must deal with rising costs, he said, and there are two ways to do that: "raise the tax rates or tax more stuff."
"That's what economic development does in the long run," Nave said. "It broadens the tax base to help keep your taxes lower."
Overcoming obstacles
Shawnee's already low tax rates and aggressive incentives are helping overcome an economic development deck that history and geography stacked against it.
As a truck farming community, Shawnee was carved up into lots of small parcels, often forcing developers to deal with 20 or 30 property owners if they wanted to assemble an 200- or 300-acre development tract, Nave said. To the south, on the other hand, they could find larger and flatter parcels in abundance.
Shawnee got another raw deal when Interstate 35 was built east of the city limits, Vaught said. Shawnee had better luck when I-435 was built across the center of the city. But unfortunately, the terrain it cuts across here is more rugged than it is to the south in Lenexa or north in Wyandotte County.
"With all the development at Village West (in Wyandotte County), the traffic on I-435 has increased dramatically, and eventually that will spur development along 435 in Shawnee," Vaught said. "But it's a question of supply and demand. Until the supply of flat ground starts running out, developers aren't going to start looking at ski slopes."
Fortunately, however, Shawnee has lots of development land west of I-435, and it is served by another highway, K-7, which provides an important link between K-10 to the south and I-70 to the north. Hence, the name Westlink Business Park, Kerr said.
"That's a major piece of infrastructure," Kerr said of K-7. "Plus Shawnee is one of the fastest growing towns in Kansas, its land area is huge, and it's in the path of the continuing westward expansion of the metropolitan area."
Plus, those rolling hills that have slowed commercial development along I-435 have attracted lots of upscale homebuyers, including many business owners who will eventually decide to relocate their firms to their hometown, Kerr said.
According to Nave, the portion of Shawnee west of I-435 is projected to grow by 45,000 residents by 2030, pushing the city's population well over the 100,000 mark. That coming wave of residential growth has already sparked intense interest from retailers, Nave said. With expected growth in the office and industrial sectors, he added, Shawnee will soon be hitting on all cylinders.