Drive-thru book drive helps Scout with fourth-generation Eagle goal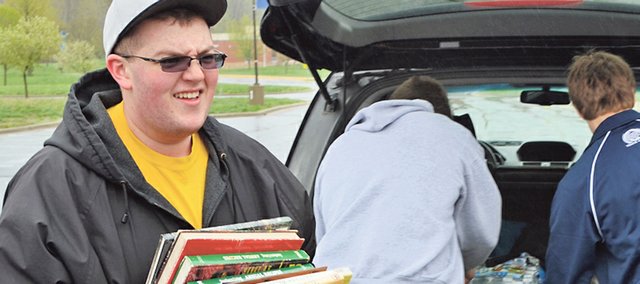 Be prepared. That's the Boy Scout motto, so it wasn't surprising that Graham Cannon was prepared for the 30-degree temperatures and light rain that greeted his Eagle Scout project Saturday morning.
Graham, a member of Troop 93 at Shawnee United Methodist, made sure canopies were set up for his project: a drive-thru book drive at Mill Valley High School, where Graham is a junior and offensive lineman on the football team.
Ten fellow Scouts and five members of the football team signed up to help collect and sort the books that motorists pulled into the parking lot to donate. They will be donated to a nonprofit organization called Building a Book Shelf, which will distribute them to places like the emergency room waiting area at Children's Mercy Hospital.
Graham, who decided on the book drive for his Eagle project because he's always loved reading, also organized a book collection at Clear Creek Elementary as part of the drive. His fifth-grade teacher, Dandra Arter, is now the librarian at the elementary school, and she agreed to assist with the collection.
The donation totals from the school collection and the drive-thru portion of the Eagle project were 2,791 books and $784.11 in cash.
The Eagle project was one of the final requirements Graham had to fulfill to qualify for Scouting's highest honor. He expects to be honored during an Eagle Court of Honor ceremony in November, making him the fourth generation of is family to attain the rank.
Graham is the son of Gus and Vicki Cannon of Shawnee. Other Eagles in the family include Vicki Cannon's brother, Carl Shields II; her father, C. Edwin Shields; and her grandfather, Carl Shields.
According to Graham, he decided to conduct his project on Saturday because it was his grandfather's birthday and he thought his completion of the requirement would make a nice present.
"I've always looked up to him," Graham said. "He's one of the main reasons I decided to become a Scout and get my Eagle."
Graham joined Tiger Scouts as a first-grader in 2002 and earned his Life rank in Scouting two years ago. A member of the Tribe of Mic-O-Say and Order of the Arrow, two Scouting honor societies, Graham attended the 2010 National Scout Jamboree at Fort A.P. Hill, Va. The event celebrated the 100th anniversary of Scouting.