Rare young musical talents provide parish with rare treat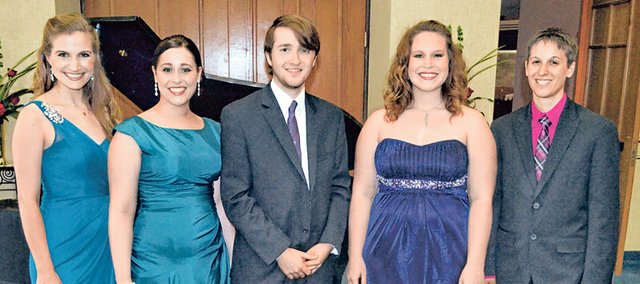 Five young adults from Good Shepherd Catholic Church are rising so rapidly in the musical world that the parish decided it better get them together on stage one more time before it was too late.
The five parishioners — vocalists Cassie Banion, Olivia Betzen, Jessica Freyermuth and Kirsten Hyde and keyboard virtuoso Andrew Morris — presented a concert called "Divo, Divas and Desserts" for a sell-out crowd of 100 last Wednesday evening in the narthex of the church, 12800 W. 75th St. Those attending paid $25 each for a chance to watch the young people perform a program of classical and popular numbers and then join them for coffee and desserts.
The proceeds from the event will help fund a music scholarship for a member of the Rhythm of Christ — the group that helped launch the musical careers of Wednesday's performers. All five performers were members of Rhythm of Christ, a musical ensemble of high school teens and young adults that performs for the 5 p.m. Sunday Mass at Good Shepherd.
"I give credit to the parish for supporting a program like that," said John Rudzinski, director of music for the parish. "You can count on one hand the number of parishes surrounding us that support a high school ensemble."
Even more rare, he said, is the crop of performers that was featured during last week's concert.
"To have four divas like that and the guy is just exceptional," Rudzinksi said.
"The guy" is Andrew Morris, the youngest of the group, who is a senior at Shawnee Mission Northwest. Morris, who provided piano accompaniment and solos during the concert, started playing piano when he was 8 and is currently the first-chair clarinet for SM Northwest's band and symphonic orchestra.
In addition to playing piano for the 5 p.m. Saturday Mass and clarinet for the 5 p.m. Sunday Mass at Good Shepherd, Morris plays organ at the Church of the Nativity in Leawood and is principal organist at Shawnee Presbyterian Church. He plans to pursue a bachelor's degree in organ performance at Kansas University.
"He just got a scholarship from the KU organ program, which blew everyone's mind," Rudzinski said. "We thought he was going to become a concert pianist because he's just a total prodigy. He's performed all over the United States."
The four young women who performed with Morris last Wednesday are all vocalists in their early to mid- 20s with considerable performing experience.
Olivia Betzen, who aspires to a performance career, "is like someone you'd expect to see at the Kauffman Center for the Performing Arts," Rudzinski said.
Betzen earned bachelor's and master's degrees in voice and Italian from KU and is in her final year at the University of Michigan, where she's completing a post-master's degree in musical performance. She recently performed the lead role in "Don Giovanni," the Mozart opera, at Michigan. She also has participated in classical vocal competitions across the United States and Europe, winning third place in the 47th International Antonin Dvorak Competition and firsts in the Upper College Women's Division and Open Division of the National Association of Teachers of Singing Regional Competition. She recently signed a contract to perform this summer with Opera Vermont.
Cassie Banion will be leaving next month to perform with an opera company in Germany. Banion, who earned a degree in vocal performance and music education at Kansas State University, taught in the Blue Valley school district for four years before returning to the classroom. She is working on a master's degree in vocal performance at KU, where she recently performed in school productions of "Trouble in Tahita" and "La Boheme." In addition, she currently works with young singers at a voice studio in Kansas City, Mo.
Jessica Freyermuth, Banion's sister, recently rejoined the Rhythm of Christ ensemble at Good Shepherd. She earned bachelor's and master's degrees in music from Kansas State and is currently working on a doctorate in musicology at KU. While at K-State, she appeared in several operas, including "Die Fledermaus" and "The Old Maid and the Thief." Freyermuth teaches private voice and guitar lessons through the Kansas City Vocal Institute.
Kirsten Hyde is a senior majoring in vocal performance at K-State. She has performed in multiple operas and musicals there, including "Gianni Schicchi," "The Crucible" and "Le Nozze di Figaro," which featured Hyde in the lead role. After graduation next month, she plans to spend a year in Italy as an au pair, followed by graduate school.
According to Rudzinski, Hyde has "the biggest voice" of the group, but she's not sure whether she wants to become a performer or a doctor like her mother, Rita Hyde.
"She wants to test the waters in Europe for a year and see where it leads her," he said. "She may come back and go to medical school. All five of these performers are very intelligent."