New Theatre season to include movies, musicals, healthy food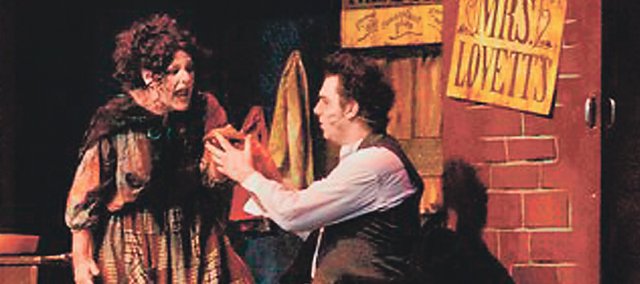 Some changes are afoot this upcoming season at Theatre in the Park.
In addition to the full-scale musicals Theatre in the Park audiences have come to expect, the theater is partnering with SureWest to offer Movies in the Park. Beginning June 11, the theater will screen family-friendly movies throughout the summer such as "Mary Poppins," "The Lion King" and "Singin' In The Rain" for only $1 per person.

"I wanted a way of getting people into the park and utilizing the facility and perhaps drawing a different demographic," said Tim Bair, producing artistic director, of the incentive for showing the films, noting that they will originally be shown every other Tuesday in between the lulls between each stage musical. Once the season is over, he said, film nights will move to Saturdays and will include a triple feature on Aug. 24 of all the "Lord of the Rings" series in one night.
"Bring some camping blowout mattresses, bring some sleeping bags," Bair said of the event that he expects to go until about 5:30 a.m. the next morning. "It's just a fun night in the park and something different, and we've never done it before and we'll see."
Bair said he's excited about the season of stage musicals, which will kick off June 7 with "Children of Eden," loosely based on stories from the book of Genesis.
"It's really about parents and kids and letting go and loving your children for what they bring to the table," Bair said of the show, which will also constitute "the biggest show we've ever done at Theatre in the Park." The show's cast, orchestra and choir, he said, will total more than 200 people.
"It kind of lends itself to being a big old hootenanny on stage," he said.
What Bair called a "park favorite" is returning this season, too, but with a twist. "Peter Pan" will be staged in July. Instead of the traditional way the popular play and musical have been staged with three different settings for Wendy and John's nursery, Neverland and Captain Hook's pirate ship, "we're never leaving the nursery," Bair said. "We're really relying on the magic of imagination."

"I really wanted to start thinking about a brand really or an identity for Theatre in the Park and how we produce things," Bair said of the change. "And for people to … come to the show not only because they like the show but because they love the way in which they're done."
Other productions will include "9 to 5 the Musical" in late June and "Hairspray" in August. Like "Children of Eden," Bair said "Hairspray" has an important message to share about "accepting people for who or what they are regardless."
"I think there's a really good opportunity to walk away and have a little bit of something to think about other than, 'Wow, that was a really great tap dance,'" he said.
Another change will be seen in the concessions at the theater, which will include a healthier menu with calorie counts listed next to each item, Bair said.
"We thought it was about time to offer some healthy options," he said.