Unforgettable … again: Maranatha girls seize second 2A team title
Photo Gallery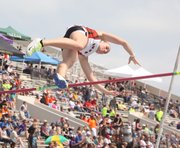 2013 state track and field: Shawnee highlights
Two area teams won state titles and scores of Shawnee student-athletes competed at the May 24-25 state track and field championship meet at Cessna Stadium in Wichita.
Wichita — On Friday, after easily placing first in the girls 400-meter dash preliminaries, Maranatha Christian Academy sophomore Caroline Bingham stood in the infield of Wichita State's Cessna Stadium and vowed next year will be better.
Funny words from a girl who, by Saturday's end, would help hoist the Class 2A state track and field trophy alongside teammates after taking home three individual state championships and a relay title.
If Bingham didn't start the season the way she had hoped, no fault can be found in the way she finished it. The sophomore won state championships in the 100 (12.38), 200 (27.10) and 400 (58.41) and anchored the Eagles' first-place 4x400-meter relay team (4:08.77) on Saturday alongside fellow sophomores Lauren Harrell, Katherine Smith and Hope Manning.
"We have great coaches and we're all really hard workers," Bingham said. "We're really blessed."
Maranatha won its second straight Class 2A girls championship — finishing well ahead of Ell-Saline with 78 points —bolstered by a trio of additional titles. Senior Bethany Bailey ended her career with a 2A record-breaking 11-foot, 5-inch pole vault on Friday to give the Eagles their first title.
"That moment when you just get to look up at that bar and know you cleared it … nothing like it," Bailey said.
Bailey returned to the school after spending two years at Bonner Springs High School. Previously, she spent 10 years in the academy.
"I had to finish it with them," she said. "They're my home."
Bound for Indiana Wesleyan, where she will continue her pole vault career, Bailey received a pleasant surprise when in the midst of conversation, only then she learned her team won the championship.
"Dude, that's awesome. Oh my gosh," Bailey said, laughing. "I guess that's just the cherry on top. This weekend has been amazing."
Also Saturday, Maranatha sophomore Taylor Morrow, Smith, Harrell and Manning won the girls 4x800-meter relay in 9:50.09. Meanwhile, in the girls 1,600-meter run, Harrell took the lead in the final steps of the race, winning it in 5:19.77. Harrell also placed third in the 800-meter run (2:27.87). Manning placed seventh in the girls 3,200 (12:05.11).
On the boys side, Maranatha 4x400-meter relay team of Caleb Henderson, Jensen Lemmon, Tabor Belcher and Briar Belcher won the Eagles' final event of the meet, taking the event title in 3:29.79.
Briar Belcher also placed fifth in the boys pole vault (13-06) and joined Lemmon, Henderson and Devin Schneider to place fifth in the boys 4x800 (8:34.43). Lemmon (52.92) and Shawn Manning (53.03) placed sixth and seventh, respectively, in the boys 400-meter dash. Henderson finished eighth in the boys 800 (2:06.75).