SM

Northwest to stage popular musical 'Anything Goes' this weekend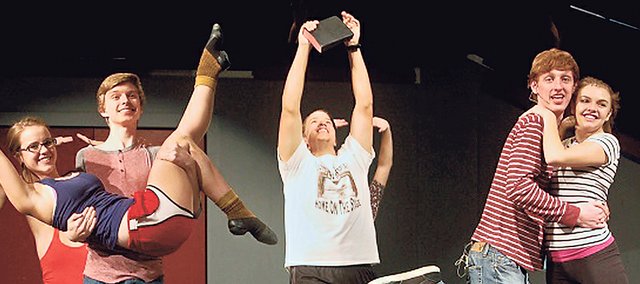 If you go
"Anything Goes" runs at 7 p.m. Thursday, Friday and Saturday in the school's Greg Parker Auditorium, 12701 W. 67th St. Tickets are $10 and may be purchased online at smnwtheatre.com or at the door.
Parents and community members who choose to attend a production of "Anything Goes" this weekend at Shawnee Mission Northwest can expect a highly entertaining diversion from the hustle and bustle of everyday life.
At least, that's what cast member Elizabeth Brooks hopes audience members get out of the Cole Porter musical, which opens Thursday and runs through Saturday. "Anything Goes" will feature the talents of close to 100 students, including those onstage, in the orchestra and on the behind-the-scenes crew, said Keli Rodgers, the show's director.
"I think we get so caught up in our day-to-day lives, that to be able to come and escape into a world of pure fun, it doesn't get much better than that in my opinion," said Brooks, a senior at SM Northwest who plays evangeslist-turned-New York nightclub singer Reno Sweeney, a central character in "Anything Goes."
Described by Rodgers as a goofy musical comedy, the show's main plot of boy meets girl, boy loses girl and boy tries to find girl again largely takes place on an ocean liner bound for England.
"We pick stuff based on what we think our talent pool's got a lot of, and I had a lot of really strong girls this year," Rodgers said of why she chose to stage "Anything Goes" as the school's fall play. The show has several strong female roles, including Sweeney, Hope Harcourt, played by senior Rachael Birt, and Bonnie, played by junior Maggie Marx.
But there is also a strong male contingent of characters, including Sir Evelyn Oakleigh, played by senior Ben Huddleston, who said he's been involved in theater at SM Northwest all four years.
"This is my first show with a lead role, so that's very exciting for me," Huddleston said.
He said he's also looking forward to playing the British Oakleigh because "I have a lot of fun, clever, British lines that are really good."
Brooks said she's been involved with theater at the school since freshman year. The character of Sweeney is one Brooks said she can personally relate to more than others she's played in the past.
"She's fun and she loves being the life of the party and the center of attention," Brooks said. "And I think all of us like being on stage because we like attention. So, to kind of be the queen of that is fun. I get spoiled."