Two local teachers land spot in national coffee table book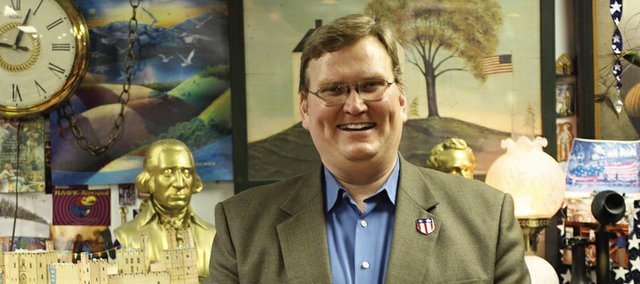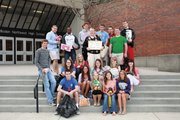 You won't see any students' heads bowed over textbooks in Ron Poplau's class, but you will see Christmas trees and listen to recordings of Christmas carols all year.
And in Keil Hileman's classroom, a typical day is spent participating in a simulated archeological dig among the thousands of historical artifacts that comprise his classroom museum.

There are stories behind how these longtime Shawnee Mission and De Soto teachers got where they are today, and they're told in a new coffee table book called "American Teacher: Heroes in the Classroom." The book, published by Welcome Books and distributed by Random House, features the personal narratives of 50 public and charter school teachers from across the country. Photographs and letters from former students are included with each story.
These aren't the 50 best teachers in the country, insists author Katrina Fried, who researched the teachers and interviewed them for the book.
"Even if I spent 20 years researching, I don't think you could make that kind of a definitive statement," she said.
Instead, Fried said, she hopes the book demonstrates that the featured teachers are just representative of the thousands of others doing great work every day.
Fried began by finding teachers who have won state or national recognition over the past 10 years. Poplau and Hileman have been recognized often.
Poplau's Cougars Community Commitment class, a community service course for juniors and seniors at Shawnee Mission Northwest, won him induction to the National Teachers Hall of Fame in 1999. He also was named 2006 Kansas Teacher of the Year and was a finalist for National Teacher of the Year.
"I don't believe in textbooks and neither do the kids," said Poplau, who has been teaching at Shawnee Mission Northwest since it opened in 1969.
Students in Poplau's class spend the period performing acts of community service, tutoring younger students or volunteering at Shawnee Community Services. Because Poplau is a firm believer that giving to others makes the world go round, his class motto is "The doer of good becomes good." That's also the title of a book he wrote about volunteering.
But Poplau's long and successful teaching career got a rocky start.
"One month into teaching, I was ready to quit," he recalls of his first foray into a classroom, 52 years ago in St. Paul, Minn. "Oh man, it was just awful. I didn't know how to teach."
On the advice of a colleague, he had a candid conversation with his students about his teaching methods.
"I sat on the desk and I said, 'How come it appears that we don't get along?' And every hand went up," Poplau said. "And something happened. Oh man, it was incredible. And I remember the day at the end of the first year, I sat at my desk and I said, 'This is what I want to do for the rest of my life.'"
Poplau said he keeps the Christmas theme going in his classroom all year to remind students that "what we do at Christmas time, we should do 24/7" when it comes to giving. At the end of the day, though, he says they're really doing all the work.
"I'm here to say that these kids are just fantastic and the inclusion in the book is really an inclusion of them," Poplau said. "And that's the way I feel."
Hileman also is humble about being featured in the book.
"It's a fun chance to represent my district and my community and basically show people what education can be," he said.
Heavily involved in Boy Scouts and his church youth group, Hileman said he has always been a teacher in one form or another, "I just didn't realize it." But he's officially been teaching at Monticello Trails Middle School in the De Soto district for 21 years. Through his Museum Connections course, Hileman uses the upwards of 20,000 historical artifacts donated by parents and community members over the past two decades to teach his students about history. Objects include a barber's chair from the 1920s, a cast-iron stove from the turn of the 20th century and even an 18th-century slave's collar. Students also get a small taste of what an archeological dig might be like through the modified dig tables Hileman had developed for his classroom.
For his efforts, he's earned the title of 2004 Kansas Teacher of the Year, after which he was named a finalist for the national title. He also earned the Daughters of the American Revolution Outstanding Teacher of American History award in 2007 and the Dolly Parton Chasing Rainbows award in 2010.
"I love what I'm doing, so I'm supposed to be doing it, so I feel a little bit of guilt," Hileman said about the awards and recognition he's received.
Hileman has had his share of challenges, including the time several years ago when he had to fight to keep the program going. In the space of one year, he was also diagnosed with a brain tumor and suffered serious injuries to his legs as a result of a fall from a roof. Because of the fall, doctors told him he might never walk again. And as a result of the tumor and the surgery and treatments he received to get rid of it, he was told he might lose his vision or the ability to ever have children.
Today, Hileman is still walking, seeing and is the father of three.
"Nothing stops him," Fried said. "And I think that is such an important message for educators."
"American Teacher: Heroes in the Classroom" is available in the $30 price range at major booksellers, including Barnes & Noble and Amazon.com.