Master artisan makes glass magic in Merriam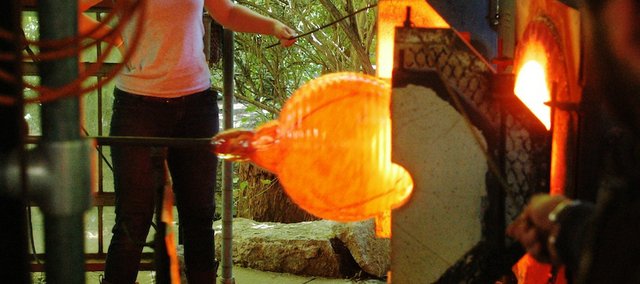 Merriam — If you want to train with Dierk Van Keppel, you have to be cool with pain.
"I look for people with glasswork experience," explains the master artisan, who runs Merriam-based Rock Cottage Glassworks from an airy studio behind his home on Farley Street. "They know what it feels like to get hurt."
And for good reason. Tuesdays, Wednesdays and Thursdays, Van Keppel and his apprentices perform a delicate dance between industrial fans, 2,500-degree ovens and tables strewn with gleaming shards.
"That hurts if you back into it," Van Keppel deadpans as he maneuvers past a flame-shooting furnace.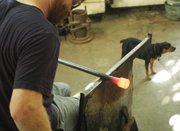 One of his many dogs trots by unconcerned, then curls up for a nap on the concrete floor. A few feet away, Josh Dickens of Shawnee works a piece of molten glass the size of a large marshmallow at the end of a blowpipe. Van Keppel's battling the flu, so today Dickens and three other apprentices — Brian Berger, Tyler Kimball and Allison Trent — are taking the lead in shaping six large, art-glass globes for a high-end residential commission in the Kansas City suburbs.
Their voices drowned out by the drone of blowtorches, furnaces, fans and bluegrass pumping from a big radio, the team of four works mostly silently, with practiced movements, ducking out of the way as the hot orange globe swings between stations.
The process takes about 45 minutes. When finished, each globe will weigh close to 30 pounds.
"It's tough work — it takes a lot of strength," Van Keppel said as he studies their movements, "and you gotta work fast."
Van Keppel, who has a liberal arts degree from Kansas University, has been blowing glass for more than 30 years. His fine art glassworks have been featured in galleries and museums throughout the nation, as well as in commercial displays for clients as far-ranging as Fiorella's Jack Stack and the Kansas City Chiefs.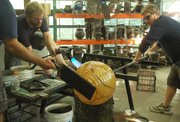 The Lawrence Public Library last November commissioned Van Keppel to create, among $75,000 worth of glassworks with artist John Shreve, a large mobile for its new, two-story atrium. And in August, the Kansas Creative Arts Industries Commission selected Van Keppel's studio to receive a $5,000 grant for a new furnace through the National Endowment for the Arts.
"Pretty cool," he says.
ROCK COTTAGE GLASSWORKS
Dirk Van Keppel's Rock Cottage Glassworks, 6801 Farley Street in Merriam, produces art glass and custom-lighting features for commercial and residential clients. Their showroom is at 215 W. 19th Terrace in Kansas City, Mo. For more info, email info@rockcottageglassworks.com or call 913-262-1763.
More like this story