Shawnee City Council appoints Meyer to Ward 3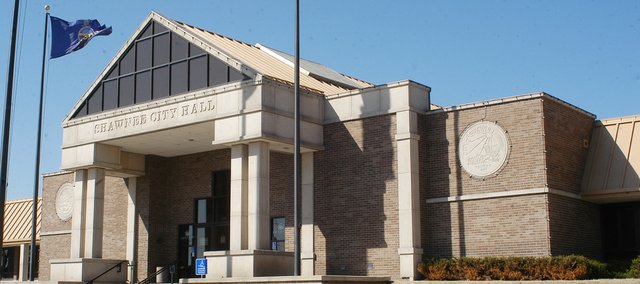 A Shawnee planning commissioner has replaced a longtime Shawnee City Council member after some heated discussion and a series of back-and-forth votes Monday night.
By a 4-3 vote during a special session preceeding Monday night's regular meeting, the council approved Stephanie Meyer to fulfill the rest of former Councilwoman Dawn Kuhn's term as Ward 3 representative. That action came after a 4-3 vote blocked Councilwoman Michelle Distler's motion to appoint Tony Lauer, a longtime council watcher and activist, to the seat.
Councilmembers Distler, Dan Pflumm and Mike Kemmling all voted for Lauer's appointment. Councilmembers Jim Neighbor, Neal Sawyer, Jeff Vaught and Mickey Sandifer voted against it.
Sandifer later made a motion to appoint Meyer, with the council voting along the same lines — Neighbor, Sawyer, Vaught and Sandifer for Meyer's appointment and Distler, Pflumm and Kemmling against it.
The vote came after lengthy discussion, including two emails Distler brought to light. One was from Neighbor to City Manager Carol Gonzales, dated Aug. 8, inquiring about Kuhn's plans to resign at the Aug. 26 meeting. The other was an email Distler received Aug. 2 that alleged Meyer would be Kuhn's replacement.
Vaught dismissed the second email, calling it merely rumor. Distler clarified that she wasn't alleging that any decision already was being made, but was concerned about the perception.
Neighbor said that, as council president, he was inquiring about what it might mean for the council if Kuhn were to move, as she was planning to marry.
"That's all it was," Neighbor said.
Distler declined to give the name of the person who sent the second email, but she said it had been sent to several hundred people.
Kemmling said that council members needed to be cautious with their individual actions, noting that the council was reprimanded in January for Kansas Open Meetings Act violations in appointing Mayor Jeff Meyers' uncle by marriage, Alan Willoughby, to a vacant Ward 2 seat the previous May. But Vaught disagreed.
"We weren't reprimanded," Vaught said. "We were in violation of the 'spirit of the law,' which to this day I'm trying to figure out what that is."
Johnson County District Attorney Stephen Howe said in January that the council violated the "spirit" of the open meetings law with "backroom deals."
In April, Kemmling defeated Willoughby and other challengers in an open election for former Councilman David Morris' Ward 2 seat.
Former state representative Owen Donohoe, one of five Ward 3 residents to apply for the vacant seat, was absent from the special meeting because he was in the hospital, but that wasn't known until Shawnee resident Ray Erlichman announced the news during open forum of the regular meeting that followed. Shawnee resident Libby Knox, a friend of the Donohoe family, said she came from the hospital with a letter from Donohoe to the council. But with no public comment allowed, she said she did not address the council during the special meeting.
In his letter, Donohoe said residents weren't being given the opportunity to have a voice in their representation in Ward 3.
"As a government, Shawnee must govern the will of the people," Donohoe wrote. "But the people aren't allowed to comment or choose their representative."
Donohoe wrote that he applied because "the people deserve a voice, and they have chosen me as their representative three times already."
Meyer, external affairs director for the Kansas Bioscience Authority, lost a 2012 bid in the Republican primary to Charles Macheers for Kansas House District 39.
Sandifer said he picked Meyer because constituents had told him to first look at candidates who are on the planning commission.
"I'm looking for someone to hit the ground running as we get on here," Sandifer said.
Others who applied for the Ward 3 council seat were Jeff King, a retired Army Engineer Officer, and Jason Sheahan, general manager of Reddi Services.
Meyer was sworn in before Monday's regular meeting. She said after the meeting that she hoped to focus on economic development in her ward, which is in western Shawnee.