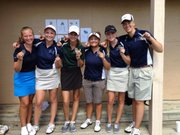 Mill Valley's strong fall campaign in 2012 kicked off the best year in sports in school history. From cross-country winning another pair of league titles and finishing two girls runners in the top 10 at state to the volleyball team advancing to its first state title, highlights were plentiful last year.
Not much is expected to change as some of fall's top teams will return many of its key contributors from a year ago, keeping expectations high. Here's what to expect this season at Mill Valley.
Cross-country
Both the boys and girls teams will defend their league titles this year, each seeking consecutive championships: for the boys, a 2013 title would be their fifth straight and the girls, a second straight.
Defending KVL champion C.J. Meeks returns as do state qualifiers Graham Wilson and Derek Meeks. Meanwhile, the girls return both of their top-10 state finishers in Amber Akin (sixth at the 2012 5A meet) and Ellie Wilson (eighth). Mill Valley's girls team made it to its second straight state meet at Rim Rock in Lawrence last year, but the boys had a four-year streak snapped in 2012.
Girls golf
First-year coach Jack Johnson welcomed back the bulk of last year's squad. Seniors Laurel Knust and Bailee Fleming will be joined by juniors Holly Webb and Brittani Jensen.
"As a team, Mill Valley may be fielding it's best team yet," Johnson said.
Jenson has several Division I scholarship offers, Johnson said, but will be sidelined for most of the season with a wrist injury. Among the Jaguars' most promising newcomers is freshman Meg Green, who is poised to be Mill Valley's No. 2 golfer.
Girls tennis
State-qualifiers junior Mikaela McCabe (No. 2 singles last year) and sophomore Paige Weibe (No. 2 doubles last year) return to lead a young Jaguars squad this season. Fellow state qualifier Sarah Wetzel, who played No.1 singles all for years at Mill Valley, has graduated. Coach Alyssa Meyer said Mill Valley had more than 50 girls come out for tennis this year, but that the Jaguars will need to replace four of the team's six regional team members from last year.
Boys soccer
After finishing just one score shy of advancing to the state playoffs, Arlan Vomhof's boys soccer team will look to follow in the footsteps of the girls soccer team, which has advanced to the state tournament's final four teams in back-to-back seasons. J.D. Dandridge and Jack Lopez return to a program that fielded 33 student-athletes this fall and is poised to again be in the discussion for a league championship.
Volleyball
After reaching the 5A state tournament for the first time in program history, second-year coach Whitney Revelle has set the bar nearly as high as it can go entering her sophomore season as head coach. "With six returning seniors," she said, "we have the capability to repeat our success from last year."
Among the Jaguars' top returners are Molly Oshinski on the outside, Hannah Billings leading the offense, Taylor Cowan in the middle and Abby Ford leading the defense, Revelle said.
"(Billings) is a player that most coaches would die to have at some point in their coaching career."