Fall sports preview: Unfinished business for
SM

Northwest seniors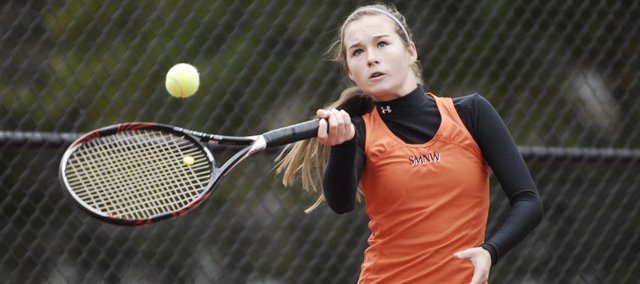 Shawnee Mission Northwest's fall sports teams are coming off a year in which one, the boys cross-country team, took home a state championship and others (boys soccer and cross-country) came up just short of making state tournament runs of their own.
Here's what to expect from SM Northwest's fall sports programs in 2012.
Cross-country
The reigning 6A boys champions return seniors Connor McDonald (12th at state) and Nate Sterns in addition to junior Jake Malik and sophomore Chandler Bado. Meanwhile, the seventh-place girls team returns seniors Hayley Nugent and Tori Tummons and juniors Carson Wapp and Gabi Basel. Nugent finished inside the top 50 at state last year. Coach Van Rose expects the boys' top state competition to be Wichita North, Olathe North and Manhattan, while the girls will need to contend with Olathe East, Olathe Northwest and Manhattan. In the first round of state cross-country rankings, released last week, SM Northwest is fourth in the 6A boys rankings and fifth in the 6A girls rankings.
Girls golf
Coach John Reiff's team returns two varsity letter winners in junior Megan Glenn and sophomore Abbey Radmanesh while sophomore Kamryn Koziol will make the transition up from junior varsity. Incoming freshman Gabby Cortez also figures to help the team, Reiff said, as it seeks to qualify a golfer for state for the seventh straight season.
Girls tennis
State qualifier Claire Gordon and fellow grad Brooke Evans must be replaced, but coach Ken Clow said the Cougars expect to field a deep team of 12 seniors. "We should be very solid," he said.
Back this year are Lexy Drummond, Lauren Benjamin, Amanda Rebori, Colleen Freeman, Carli Olson, Faith Bryant, Gabby Whitmore Zoe Zimmerman, and Brooke Bennett.
Freshman Tamera Horton and foreign exchange student Mirell (Memo) Molder also figure to contribute.
Gymnastics
Coach Cindy Beason returns after her debut season in 2012. The Cougars must replace seniors Amy Hein and Scottie Shelby but do return seniors Grace Gregory and Mallory Wilhite in addition to junior Katie Sigman.
Boys soccer
In 2012, the Cougars nearly pulled off one of the state's biggest upsets in state quarterfinal play against top-seeded Blue Valley Northwest. In the final minute of overtime, Blue Valley Northwest notched the game's lone goal to end the Cougars' season at 9-8-2. A late-season surge was partly responsible for coach Todd Boren's team being in position to nearly shake up the state tournament. Back this year will be senior goalkeeper Steven Skells, junior Sam Nobrega, senior Evan Miller, senior Hunter Thompson and senior Collin Jones. Meanwhile, the Cougars will be seeking to replace the graduated Andy Alvey, Junior Agbor and Cody and Tyler Sliva among others.
Volleyball
First-year coach Sarah Silva takes over a SM Northwest volleyball team that finished one match shy of advancing to the 6A state tournament. The Cougars return a senior-heavy roster and will be led by Gabrielle Riggs, Lindsey Unrein, Madison Frazier, Kate Helfrich, Abigail Born and Carolina Mach.