Shawnee businesses fight for air through road construction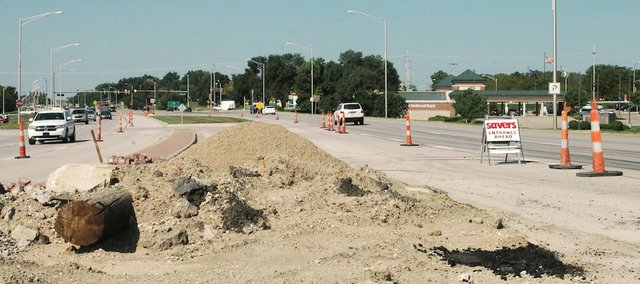 Shawnee — For 15 years, Mukhtar Raja gradually built his dream career as a small business owner in Shawnee. Now, he says, a construction project that started in April is set to derail everything.
"In the past five months, I've lost $100,000," says Raja, who owns the Phillips 66 gas station on Midland Drive, just south of Shawnee Mission Parkway, where orange cones and piles of earth obscure the entrance to his store. A hundred feet away, tucked among front-end loaders and hard-hatted construction workers, is a sign posted by the city: "Phillips 66 open during construction."
For Raja, it hasn't made a difference.
"I've lost more than 60 percent of my business," he explains. "I had to let go most of my workers. In the parking lot, it's usually just my car now, because I'm working here myself. When the road wasn't under construction, I was making it."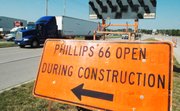 Raja was hoping to wait out the project and keep his business afloat, but backups in construction have delayed things to a critical point. He says he'll give it until the end of September, then file for bankruptcy if he must. But that won't be long enough, according to Doug Wesselschmidt, Shawnee's director of development services and city engineer.
"I just reviewed the schedule with the developer earlier this week," Wesselschmidt says. "All of that roadwork will be completed by the end of October, so there's about two months left."
Wesselschmidt says the city has been working with businesses on the south side of the roadway throughout the project.
"We're staying in pretty good contact with the Bank Midwest" on the corner of Pflumm Road, he says, "as well as the Phillips 66, making sure we've got extra signage out there so customers know they're open for business."
Gary Richerson, who manages the Savers Thrift Store south of the parkway, says working with the contractors has been a mostly positive experience.
"Of course construction's frustrating at times," he says. "The most frustrating thing is so many projects going at once. But they do seem to pay attention to traffic patterns and see what they can do to make it work."
Richerson has been with Savers since it opened last July. He thinks being a niche retailer has helped it weather the construction project's bumps in the road.
"Being a destination location, we've been pretty fortunate," he explains. "We do hear from some customers that they don't want to go through the construction mess — they'll go to other stores instead. Then we have our diehards who'll drive through any high water to get here."
But while that's true for businesses like Savers and Bank Midwest, which have specialized services and dedicated clients, convenience stores like Raja's largely rely on pop-in business from drivers looking for a quick pit stop, he says.
"I'm the gas station guy. If there's construction, there's a gas station on every corner. Why would they turn in here and get mixed up in all this?"
City Councilman Mickey Sandifer calls Raja "a friend." Raja once employed Sandifer's son-in-law, he says, and he's sympathetic to his plight.
"I don't really know what else can be done to attract more to him," Sandifer says. "The project on Shawnee Mission Parkway there at Pflumm is moving quite fast."
As for Raja's store going out of business: "I would really hate to see that happen," Sandifer adds. "That construction was supposed to make access easier to existing businesses, though I'm not going to question the point that it may deter some people."
For now, Raja says, he's thankful for the kindness of the few Phillips 66 customers who are helping keep his head above water.
"They tell me, 'Hey, we're coming here just to feed your kid,'" he jokes.
He's hopeful that construction workers from the project or city employees will hear about his struggles, stop in for a tank of gas or a bite to eat. But Raja also admits he's tiring of the whole process, losing faith that anyone who could affect change will make a serious effort in time.
"I just keep quiet, but I don't know what to do," he says. "All that I've built in 15 years, I'm going to lose it one shot."
More like this story