Shawnee nonprofit plans mission to aid Oklahoma tornado victims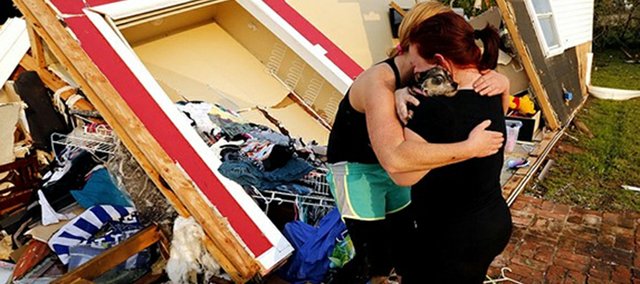 Shawnee — David Morris wasn't born in Shawnee, Okla., but he does feel a unique kinship with it: through the name of his own hometown.
That was enough to get the special projects organizer and co-president of Rebuilding Together Shawnee (Kansas) moving on a relief mission for the troubled town of 29,000 people. Much of Shawnee, Okla., was destroyed by a pair of tornadoes May 19, a day before an even bigger storm made national headlines in Moore, Okla.
"Immediately following the May storm, we wanted to do something as an organization to help the affected residents of Shawnee's sister community," Morris says. "Residents who were, to some degree, overlooked."
The May tornadoes killed two people in Shawnee and damaged so much of the town's infrastructure that recovery efforts continue to this day, more than three months later.
"It just totally devastated some of the areas down there," Morris says.
So Morris, through Rebuilding Together Shawnee, is organizing a weekend service trip to offer relief to tornado victims still struggling in the aftermath of the disaster. From Sept. 19 through 22, he'll lead a group of 20 to 30 volunteers in partnership with the United Methodist Disaster Relief Team and American Red Cross to replace windows, build walls, put up fencing and clear debris from yards and roadways.
"We felt that an organization such as ours, which is dedicated to helping homeowners in need, was a natural fit to step in and help these individuals and families continue the rebuilding process," Moore says.
Disaster cleanup is not exactly in the mode of Rebuilding Together Shawnee's usual work — April and October projects that focus on keeping Johnson County residents in their homes through minor and, at times, extensive home renovations, all free of charge.
Local plumber Mike Walberg has been working with the nonprofit since it was founded in 2007. His team of volunteers from St. Joseph Church has done everything from general yard work to rebuilding a staircase and installing a second-floor laundry room for a Shawnee couple with limited mobility.
While successful projects hinge on the availability of skilled laborers, Walberg says, volunteers with no experience can make a big difference, too.
"I have one guy who's a financial advisor, and he likes to work with a carpenter every year," Walberg says. "They work real well together — it's just amazing what some of these people can do."
For the upcoming Oklahoma relief trip, Morris still is looking for skilled and unskilled volunteers, but monetary contributions also are welcome.
"Our goal is to raise $5,000 for supplies that we'll buy down there to pump some income into that economy," Morris says.
Interested volunteers and contributors may call 913-248-2802 or email david@rebuildingtogethershawnee.org for more info.
"This is the first project we've ever done outside the metro area," Morris says. "We just feel a kinship, so we're doing this special thing. They haven't got the press or the publicity, but they still have the need."