Bonner seventh-grader moonlights as stilt walker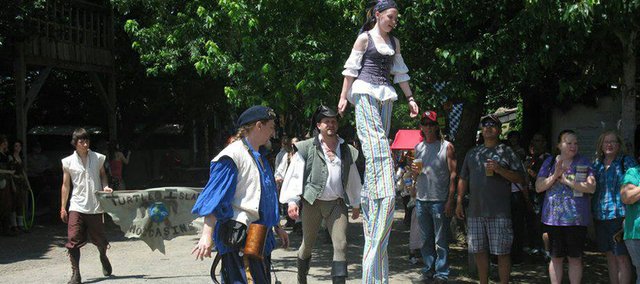 Claire Gurley is tired of being short, proud of the fact that she has finally grown past 5-feet-tall.
"I'm 5-foot and a quarter," the 12-year-old clarifies.
A few times a year, she gets to add another 40 inches to her height and towers over the rest of the crowd, thanks to a pair of stilts. And Claire loves being that much further from the ground.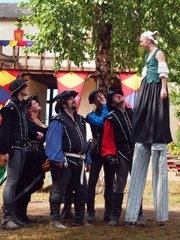 "You see things from a different perspective," she says.
Claire learned how to walk on stilts at just 7 years old, and for the last three years, she has been performing semi-professionally as a stilt walker with Olathe-based Theatre Tech Productions. And for the next several weekends, the Clark Middle School seventh grader can be found on her stilts at least once over the weekend at the Kansas City Renaissance Festival's Bonner Springs fairgrounds.
"It really evolved out of something for her to do with our weird family," her mother, Dani Gurley, said of Claire's unique hobby and part-time job. "She took it and made it hers."
The Gurleys are definitely a family dedicated to all things Renaissance Festival. Dani Gurley said her first job was at a festival when she was 14, and she now works professionally with costumes. Claire's father, Matt Gurley, performs as a magician, and the pair met at the Kansas City Renaissance Festival.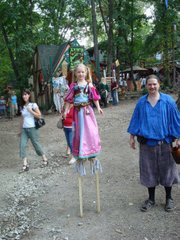 So naturally Claire had to find her own niche within the family. When she was 7, a friend of her father's who is a stilt-walker noticed her interest in his performance at a festival.
"He made a pair of stilts for me to try out, and I liked it," Claire explained.
She started just 12 inches off the ground — she has gone up about six inches every time she's ready for more height. She practiced at the tennis courts near Bonner Springs High and Clark Middle schools, because it was flat ground and had a tall fence to hold onto. Then she moved on to grassy areas.
"There was bumps and everything, and a whole new set of things to learn, like to pick up your feet, use small steps if you have to, and look for holes," Claire said.
Still, it only took a few weeks before she made her stilt-walking debut in 2008 at the Kansas City Renaissance Festival. Soon a family friend — Paul Craig, the owner of Theater Tech Productions — made a suggestion.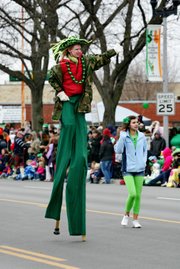 "It started out as going out and walking around and having fun, then he started to say 'Hey, you're unique; I can put you to work,'" Dani Gurley said. "Female stilt walkers are pretty rare."
As are 12-year-old stilt walkers. The family is fairly sure Claire is the youngest professional stilt walker in the Midwest. Claire was put to work at events such as the Light the Night Walk, Lenexa's Enchanted Forest Halloween event, and a Step Up for Downs event at Arrowhead Stadium. She puts any money she makes in a savings account meant either for a car or college.
But the kind of events she can be booked for has been limited. Claire walks on two-by-four poles called peg or circus stilts, which can't be worn on linoleum floors or slick surfaces. The Gurleys just ordered some stilts made of sheetrock that will allow her to perform at more events.
Otherwise, her father has built all of her stilts, while her mother has created her costumes. Claire is also working on actions and activities to do while on stilts, like twirling crystal sticks and juggling.
She has performed in western Kansas, Oklahoma and Nebraska, sometimes at Renaissance Festivals and other events where her father goes to perform.
"I do Renaissance Festivals just for fun — I just walk around and see how people are doing," Claire said.
"She's kind of part of the package deal, because Matt's stage show is a good outlet for her to throw (the stilts) in the car and go with him," Dani Gurley added.
Because it is just "for fun," Claire says she is unlikely to be on her stilts at the local festival on sweltering hot days and days when it has rained significantly the day or night before, to avoid getting stuck in the mud.
The farthest distance she has walked on stilts was in March at North Kansas City's Snake Saturday Parade. She tried to walk in the parade last year, as well, but she experienced her first and only major fall.
"I tripped over my pants legs and slid and almost did the splits, but my knees stopped me," Claire said. "And I don't do splits."
Aside from her stilts, Claire is in choir and band, is the vice president of her 4-H club, raises rabbits, plays softball and volleyball, and is active in her church youth group.
She doesn't want to be a stilt-walker for life. She says her goal is to be a professional singer or, if that doesn't work out, a lawyer. Still, she'd like to increase her stilt "lift" until she makes it to eight feet from the ground to the bottom of her feet, the minimum height that the Ringling Brothers Clown School requires for those who audition.
"Our approach is that if she wants to run away and join the circus for a year, one of us will go along and she can do it," Dani Gurley said. "You only get to do it once in life, go for it."