Downtown Shawnee car show dreams big Sunday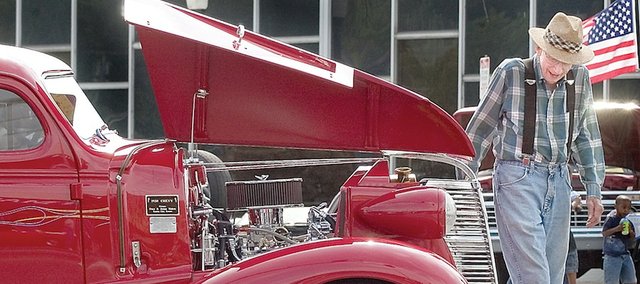 Shawnee — If you're into the classics, head to downtown Shawnee this Sunday. You won't find Bill Shakespeare or Jane Austen, but a swarm of souped-up vehicles will surely stir more than a little pride and prejudice.
The Wheels & Dreams Car, Truck and Bike Show is entering its eighth year, and organizers predict it will be their biggest yet.
"We're hoping for 350 cars, trucks and bikes," says Mike Unterreiner, chairman of the downtown business association, which hosts the event. "And a big crowd. There's usually about 2,500 people."
Unterreiner, who owns Hartman Hardware on Johnson Drive, says that historically Wheels & Dreams has provided a big boost to the downtown economy.
"It's probably one of our biggest dates of the year — it's a huge, huge deal."
But the main goal of the car show, which features everything from classic hot rods to homemade motorcycles, is to raise money for victims of domestic violence through nonprofit Shawnee SAFEHOME. This year, organizers also selected an anonymous local family in need to receive a portion of the proceeds.
"This one's special, too, because we're going to help out a 4-year-old Shawnee boy who has cancer," explains Don Singo, the event's secretary and certified classic-car guru.
The 70-year-old Shawnee resident has been "messing with old cars and hot rods all my life," he admits with a laugh.
"When I was 16, my dad bought me a '52 Chevy out of a salvage yard for $35. That's sort of how it got started."
Today, Singo owns four classic cars, including a 1959 Chevy Impala with a 348 engine and a 1950 Chevy hot rod with burgundy flames. He's part of a network of classic car enthusiasts throughout Johnson County who "talk about cars and old times, what needs to be fixed and how to fix it." Many of them will be showing off their wheels Sunday, he says.
"It's something that gets into your blood and you have a good time with it," Singo says. "It brings back your childhood."
WHEELS & DREAMS
The Wheels & Dreams Car, Truck and Bike Show will run from 11 a.m. to 4 p.m. Sunday. It will block off all Johnson Drive traffic from Splash Cove east to KC Trends, as well as a block north and south on Nieman Road. The event is free to attend; $25 to register a vehicle for showing. Highlights will include door prizes, trophies and a grand prize of $500 cash. Downtown food vendors will be out selling food and drinks.