Shawnee food trucks: Your road map to their good eats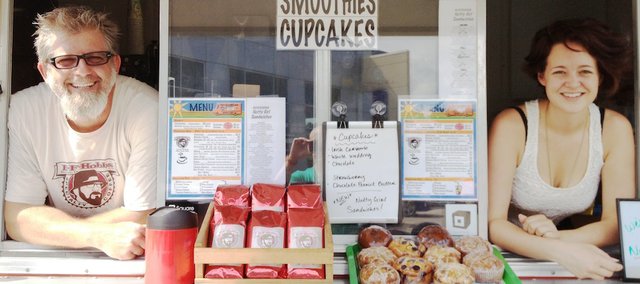 Shawnee — Whoever said not to play with your food?
For Shawnee's food-truck barons, lunch on wheels is an art form, hard work and a whole lot of fun.
Crave of KC, Prairie Fire Oven, Smokin' Fresh Streetside BBQ and CoffeeCakeKC serve up menu items as diverse as homemade taco soup and fresh-roasted java. Unlike brick-and-mortar eateries, on any given day they're making mouths tingle, well, everywhere — from downtown Kansas City to Shawnee Mission Parkway, Waldo to Overland Park.
Here are four Shawnee food trucks you need to know, who's behind them, what they're serving and where you can track them down:
CRAVE OF KC
Truck master: Chris Ireland with husband, Joe, and son, Brad
Rolling since: 2012
Specialty item: Chicken fusion tacos
Inspired by Food Network's "The Great Food Truck Race," Chris and Joe Ireland bought their food truck on eBay from a stranger in New York.
"We got a good deal on it," Chris says. "To build the same truck we have here would probably cost around $80,000."
Crave is a full-blown kitchen on wheels, decked out with a 48-inch charbroil grill, a 24-inch flat grill, a four-burner stove, a double deep-fryer, four fridges and two freezers.
The culinary know-how comes from Chris, who's originally from New Mexico. The couple and their son "just tried different ideas out every Sunday until we got the current menu," she says.
Other menu highlights: carnitas tacos, loaded nachos and seasonal, wintertime offerings such as homemade soup and gourmet salads.
Crave caters both public and private events — festivals, birthday parties, wedding receptions ­— in addition to free-wheeling stops around the metro area. They post their location daily on Twitter and Facebook. They'll be at the Kansas vs. Missouri food truck battle at 5 p.m. Sept. 22 at the Merriam Marketplace, as well as the Overland Park Fall Festival from 9 a.m. to 5 p.m. Sept. 28.
"It's a gamble when you set up," Chris says, "but after you've been in this business long enough, you get a feeling."
Contact: 913-406-8500, facebook.com/CraveOfKcFoodTruck, @CraveOfKCTruck
PRAIRIE FIRE OVEN
Truck master: David White
Rolling since: June 2010
Specialty item: Somerset truffle pizza — Tuscan oil, mozzarella, provolone, spinach, sun-dried tomatoes, mushrooms and white truffle oil
David White is secretary of the Kansas City Food Truck Association, and it's clear he knows his stuff.

"The short story is I come from a restaurant family," he says. "I grew up in restaurants here in town, and this was a way to get back into cooking without doing a brick-and-mortar."
White's portable, wood-fire oven cranks out some of KC's hottest pizza, from private events to public gatherings like farmers markets and art openings.
"We'd love the city of Shawnee to get involved, that's the next step," he says. "We've got our eye on something at the Civic Centre."
White estimates there are 30 to 40 food trucks already working throughout the metro area, and more are on the way.
"The culture is here," he says. "That's why we're working together to make it easier for us to get into these cities. There's lots of momentum, lots of stuff coming."
Contact: 913-583-0290, prairiefireoven.com
SMOKIN' FRESH STREETSIDE BBQ
Truck master: Doug Sayles and his wife, Paula
Rolling since: 2011
Specialty item: Everything
Doug Sayles was a barbecue competition addict: He made so much food, he had to give it away to his neighbors.
Then, two years ago, he made the jump from sheet-rocker to food truck master.
"I looked at a truck versus a brick-and-mortar spot, and there were a lot of different variables," he says. "In the end, the truck made sense."
Streetside prides itself on using fresh, organic and local ingredients in all its menu items.
"I try to keep the money here," Sayles explains, "and being local and organic is good for us — we're more in touch with the community."
Sayles smokes his 'cue favorites like pulled pork and ribs with applewood, but offerings range from melt-in-your-mouth brisket to an old-fashioned tomato sandwich.

"Everything I cook is good," he says. "It's my stuff, so of course I'm biased."
You can find Streetside all over KC and Johnson County, including at the Brookside Farmers Market on Saturday mornings and in Waldo on Wednesday afternoons. Just look for the line of hungry people, or follow your nose to the barbecue.
Contact: 913-638-9236, facebook.com/SmokinFreshStreetsideBBQ
COFFEECAKEKC
Truck master: Brian "Stubbie" Jurgens and his wife, Melanie
Rolling since: 2010
Specialty item: Coffee and desserts
"We're the grandfather of the Shawnee food trucks," explains Stubbie Jurgens. "We kinda came into it sideways — another Shawnee resident had started a cupcake company and wanted to do a food truck. We were brought together by a common acquaintance on Twitter."
Nine months later, the Jurgens bought out their cupcake partner, and CoffeeCakeKC was born. Stubbie calls their truck "a big orange billboard on wheels," which has turned out to be a pretty good marketing gimmick.
"We bought an old laundry service panel truck and wanted to paint it with graffiti," he says, "but we ran out of money. So the builder's like, 'Hey, try buffing this thing and see how it works out. And that orange really shined through.'"
Today, business is so good that the Jurgens have hired their first employee and are even considering buying a second truck. They run a weekly route, posted on their website, that takes them throughout Kansas City, Johnson County and Shawnee. Plenty of regulars seek them out.
"We've really defined ourselves as a coffee truck," Stubbie says. "I roast every week right here in Shawnee. I pick really good coffee, and I've got great equipment on here to brew it, just like any coffee shop."
Kansans are still coming around to the idea of breakfast and lunch on wheels, Stubbie says, but the concept keeps rolling ahead.
"It was never our dream to own a food truck, but here we are."
Contact: 913-568-2380, coffeecakekc.com