Mill Valley weekly roundup: Soccer, volleyball teams making short work of league foes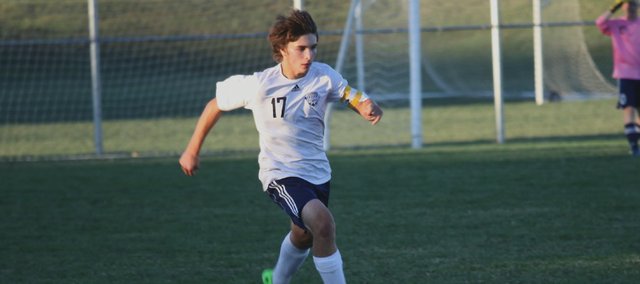 Several Mill Valley sports have been having great years already, but the boys cross country team has several first-place finishes on the season and it added another one Saturday at Rim Rock Farm in Lawrence.
Derek Meeks was the top finisher for the team placing 13th, but it was the consistent team effort that led to the Jaguars placing first out of 36 teams.
The girls, who are having a productive season as well, finished fifth out of 35 teams. Amber Akin was the Jaguars' top finisher, placing ninth.
The Jaguars will be at the Topeka-Seaman Invite on Saturday.
Girls Golf
Shooting a total score of 193, the girls golf team won the Spring Hill Invitational at Paola Country Club Wednesday.
Senior Laurel Knust finished sixth with a 45 and Meg Green was one shot back, placing seventh.
Next up is the St. Thomas Aquinas Invite on Wednesday.
Boys Soccer
The boys soccer team was on fire this week as it beat its opponents by a combined score of 15-0.
The Jaguars made quick work of Tonganoxie Monday, winning, 5-0. They took a trip to Basehor the next day and walloped the Bobcats, 10-0.
Mill Valley is now 6-1-1 on the season entering Monday's road game at Blue Valley Southwest. The Jaguars will host Lansing on Thursday.
Girls Tennis
The girls tennis team had its best week of the season, finishing with a 6-3 singles record and 3-5 doubles record at Saturday's Mill Valley tournament.
On Tuesday, the team placed first place in the DeSoto triangular going 2-0, 1-1.
Mikaela McCabe went 4-2 over the weekend and Paige Wiebe lost just one out of 7 matches. Wiebe placed third in No.2 single at the Mill Valley tournament.
The girls will play a quad at Ottawa Monday before playing host to a dual with Blue Valley Southwest on Thursday.
Volleyball
The Mill Valley volleyball team continued its roll, beating all three opponents it faced this week. The Jaguars needed three games to take care of Tonganoxie Tuesday, and they followed with victories against Ottawa and Emporia at the Ottawa tri Thursday.
Mill Valley (19-4, 3-0 in the Kaw Valley League) traveled to Basehor-Linwood on Tuesday for a road game against a fellow KVL contender.