Lenexa man injured when car clips Shawnee home, hits tree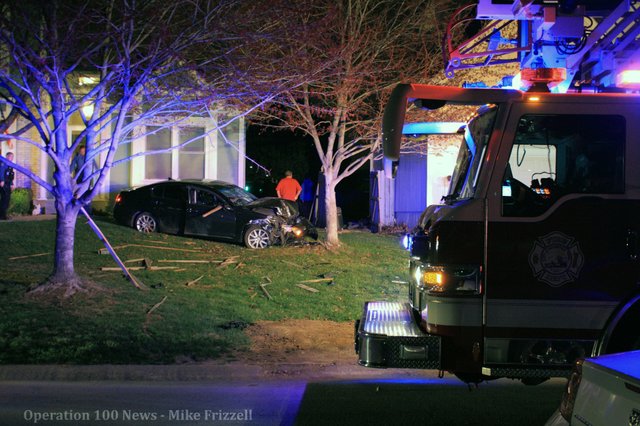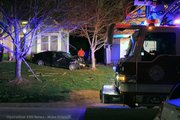 Shawnee — A 32-year-old Lenexa man was injured Monday morning when he lost control of his vehicle along Blackfish Parkway and brushed against a house before colliding head-on with a tree, authorities said.
The accident occurred around 12:40 a.m. as Matthew Thomas Leeper was traveling west on Blackfish Parkway near Pflumm Road. Leeper's Lexus sedan jumped a curb and drove through a yard on the south side of Blackfish, narrowly missing a wooden privacy fence.
Tire marks in the grass show the car then crossed both lanes of Blackfish to the north side grass, where it ricocheted off of a ground level electrical transformer, plowed through two sides of a wooden privacy fence, scraped along the side of a home's foundation and struck a tree.
Officers at the scene said Leeper was transported to an area hospital with a serious head injury.
No residents were injured and the home that the car struck did not sustain any structural damage.
Shawnee firefighters stood by with the damaged ground transformer until KCP&L could arrive to survey the damage. Several large wires could be seen sticking out of the ground.
Additional photos of the crash scene can be found on the Operation 100 News website.
A firefighter at the scene said this is the third single car accident that he can remember responding to on the same stretch of Blackfish Parkway. He said the home on the northeast corner of Summit Street and Blackfish Parkway has been struck at least once and another home near the corner of Blackfish Parkway and Pflumm Road was struck in December 2011.
The home involved in the 2011 accident is the same address where the vehicle involved in Monday's accident first left the roadway, narrowly missing the privacy fence. A report, with photos, on the 2011 accident from Operation 100 News.
In 2012, a vehicle crashed through a privacy fence of a home at Blackfish Parkway and Park Street. The residents of another home on Blackfish Parkway have replaced their mailbox at least twice due to vehicles leaving the road and crashing into it.
An Operation 100 News report