Overland Park Regional Medical Center bringing
ER

to Shawnee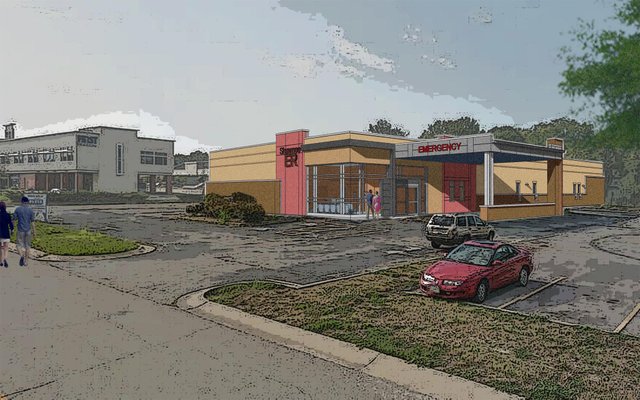 In an emergency situation, minutes waiting for treatment can sometimes mean the difference between life and death.
While more than 64,000 residents call Shawnee home, access to emergency care within the city remains limited.
That's about to change.
Officials at Overland Park Regional Medical Center are in the process of building a new 10,000-square-foot emergency room facility off Shawnee Mission Parkway, a few blocks east of Nieman Road, on the site of the former Yarbrough's Family Restaurant.
This isn't your average urgent care facility, either.
The new facility will be called Overland Park Regional Medical Center: Emergency Room at Shawnee.
Dean Carucci, the hospital's chief operating officer, said the facility will be a first of its kind for not only Shawnee, but the hospital, too.
Currently, all of the hospital's satellite facilities are located within a few miles of its main campus off Quivira Road and Interstate 435. The Shawnee facility will be the only satellite ER in their operation.
"This will be a $10 million investment once we're done," he said, adding the facility will be a fully functioning ER with an ambulance bay, trauma and psychiatric rooms that will also feature on-site CT scan and x-ray capabilities.
Christine Hamele, the hospital's marketing and business development vice president, said the hospital decided to open the ER in response to data that showed Shawnee and the surrounding communities were being underserved.
"When we looked at the market research to find where there were gaps in the community, this really was the bullseye," she said. "From a location standpoint, we thought it was a good opportunity to meet a community need."
Hospital officials worked closely with the Shawnee Economic Development Council to identify a suitable location.
Motorists who travel along Shawnee Mission Parkway have probably noticed the old Yarbrough's Family Restaurant was recently demolished to make room for the new facility.
"The community will start to see steel go up by the end of April," Carucci said. "I think we'll have access to the building sometime in October."
Once everything is installed and working properly, Carucci added, the plan is to be open for business by Nov. 1.
In addition to building the new facility, the hospital will also be hiring 32 full-time employees to staff the ER 24/7.
That number doesn't include another four or five emergency room physicians who will be needed to keep the facility running smoothly.
"It's going to be great," Carucci said. "It's certainly going to be an economic driver for Shawnee."
Those economic benefits just don't include spinoff business, but also the various taxes paid to the city by the hospital due to its for-profit status.
Andrew Nave, executive director of Shawnee's Economic Development Council, said the city is excited about the expanded emergency medical services coming to Shawnee.
"Having additional medical services in the community by a great healthcare provider like Overland Park Regional Medical Center is a home-run," he said. "Having their investment add to the redevelopment of the downtown area at Shawnee's front door along Shawnee Mission Parkway is a walk-off homerun."
While walk-ins to the ER are a huge part of the business, Carucci said, they have already met with Johnson County Med-Act to ensure everyone feels comfortable with the new protocol.
"We've worked tightly with them to ensure they have confidence in us," he said.
Carucci hopes the new ER will provide an access point to emergency room care that doesn't currently exist.
"If we already had an established ER in Shawnee, I don't know that we'd be talking about opening a second one," he added.
He said the goal is to provide a seamless process, adding patients who require hospital stays won't have to go through the emergency room twice.
"Their bed will be assigned from the original location," he said, adding that was a main concern from those who participated in a recent focus group about adding an ER in Shawnee.
"You're going to where you need to go right away," he said.
In addition to the new ER service, Hamele noted, the hospital is looking to form partnerships with the community.
"We're looking to take it to the next level and not just provide healthcare, but see how we can be a better community partner," she said.