Dickson will not return as
SM

Northwest girls basketball coach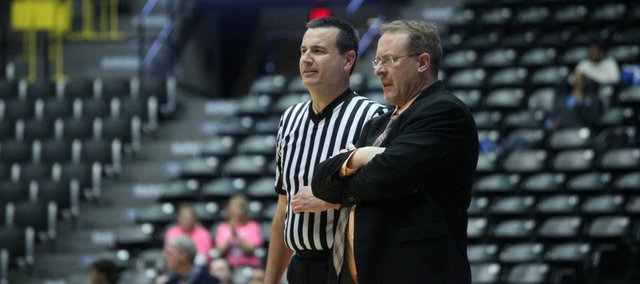 When Jeff Dickson walked out of Koch Arena in Wichita on March 12 following another successful season little did he know it would be the final time he'd coach the Cougars.
The Shawnee Mission Northwest High girls basketball team was told on April 5 at its end-of-season banquet that Dickson would not return as head coach next season.
Dickson coached the Lady Cougars to a 16-7 record this season and a berth in the 6A state tournament in Wichita, where SMNW lost its opening-round game, 59-57, to Olathe South High. He was named Sunflower League co-coach of the year with Olathe South's Steve Ingram.
"I was completely blindsided when I was told by our new administration that they wanted to move in a different direction with the girl's basketball program," Dickson said in an email statement. "Based on that, I chose to resign my coaching position and I was told that this would not affect my teaching, and I will remain a teacher at SMNW."
The Dispatch reached out to SM Northwest principal Lisa Gruman for comment on Friday and Monday. She declined both times.
When asked for comment regarding Dickson, Shawnee Mission School District associate superintendent of communication Leigh Anne Neal said she didn't have information and if she did, it would be against district policy to make a statement specific to employment.
When told of the news, junior Arielle Jackson said she felt bad as Dickson helped turn around a program that was 9-54 in the three seasons before his arrival in 2010.
Dickson went 55-34 overall in four seasons, including 48-20 in the past three years with three substate championship game appearances and two trips to the 6A state tournament.
Katie Biggers, who graduated in 2012 and was an assistant coach this year, reached out to the Dispatch via email and said she heard from current players that a few individuals complained to the administration that Dickson texted too much. There was no issue with the content.
The Shawnee Mission School District has an "acceptable use policy," but has nothing specific to texting or social media.
Jackson heard of people complaining to the administration, too.
"I didn't have a problem with his text messages because they were basketball related," Jackson said.
She said Dickson would send mass text messages to the entire team on what the team did well or what they could improve on.
Mary Slattery, who graduated in 2012 and played for Dickson for two seasons, emailed the Dispatch and said she never heard anybody complaining about him texting too often until now.
"When my class was there we thought sending a text now and then with a quote to think about or to say good job after a game was awesome," Slattery wrote. "We encouraged him to send that type of stuff because to us it showed caring off the court too and that we're always thinking about how to get better.
"High schoolers always have their phone on them so it's the easiest way to make sure everyone receives information and quickly," she added. "I never thought it was too much. Plus the beauty of a text is if you're busy just don't read it until later."
Slattery said most of the time what Dickson texted was strictly informative to say practice was moved to a different time or an optional shootaround.
Pam Biggers, Katie's mother, echoed Slattery.
It was to her understanding that the parents who complained didn't like the time of day the texts occurred. She said they thought it intruded on family time.
"Most teenage girls are on their phone until midnight or later," Pam said. "It was stuff about the team, the games, the practice. It was never anything more than that."
Pam said none of the texts was inappropriate and she didn't care that Dickson was texting Katie.
"That's how you communicate with teenagers," Pam said. "My thought process is why didn't the parents (who had a problem) go to him first? If they did, I'm not aware of it. I don't understand why it took going to the principal of the school and having him removed from the position. I never had a problem when Katie was playing for him."
The news caught Ed King, who has two daughters— Anna, who graduated in 2013 and played for Dickson, and Lauren, a junior who films games — off-guard.
He, like Pam, knows that's how he, and other coaches, communicate with this generation. As a parent, he doesn't read every one of his daughters' texts or emails. He doesn't remember having any issues with him texting either Anna or Lauren.
"The other thing I was surprised with is if they had an issue, why, and maybe they did, didn't they go to Coach Dickson?" King said.
King knows of four or five parents who have voiced their concern with the administration's decision, while Pam wrote a letter to Shawnee Mission School District Superintendent Jim Hinson.
Anna emailed the Dispatch. She wrote that she was saddened and disappointed to hear Dickson would not return.
She currently is playing basketball and throwing discus and hammer at Hendrix College in Conway, Ark.
"In the three years I spent under Coach Dickson, it felt, and it still does, that we were part of a family," Anna wrote. "I wouldn't trade such a positive, enjoyable experience for anything else. I cannot believe that the current and future players will no longer experience his leadership and his life lessons that he taught on and off the court."