Shawnee's VitaCraft Corporation donates to local veterans, celebrates 75th anniversary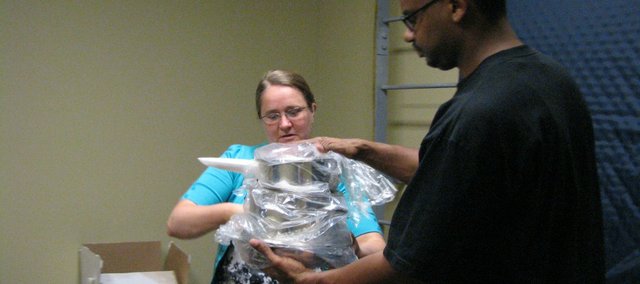 Maurice Moore held three sparkling new stainless steel VitaCraft pots and pans and already had an idea about what he would cook first.
"Fried potatoes," he said with a smile.
Moore is one of more than 50 new residents at St. Michael's Veteran's Center, a new apartment building for veterans which opened in July. Moore, like a majority of the new tenants at St. Michael's, was homeless prior to moving into the apartments. Although the apartments offer homeless veterans appliances like brand new microwaves, stoves and dishwashers, St. Michael's veteran's Center relied on donations from Kansas City organizations to further equip the new tenants with necessary day-to-day items. VitaCraft Corporation of Shawnee was one of the those organization to step up. VitaCraft is in its 75th year of business in Shawnee and has made charity a big part of their organization.
VitaCraft President Gary Martin said the idea to donate cookware came from his neighbor, a veteran who knew that St. Michael's Veterans Center was looking for donated items.
"It's very nice at St. Michael's but they didn't have any furnishings," Martin said. "We wanted to know if we could help."
So, Martin and the VitaCraft team donated 60 sets of pots and pans to the St. Joseph, Mo.,organization Catholic Charities which operates St. Michael's Veterans Center.
Moore said that receiving the cookware has made huge difference in his and his neighbors' lives. About 80 percent of his fellow tenants moved into the apartments with nothing but a backpack of personal belongings. Moore, a disabled Navy veteran, went through a two-month approval process to get an apartment at St. Michael's, which works with the Federal Housing Authority to adjust rent for tenants based on their income.
"Having the pans motivates you to think of things you can make or what you used to make," Moore said. "I haven't cooked in at least four months."
Moore had spent his time before moving into St. Michael's living on the Kansas City, Mo., streets and transitioning between hotels, homeless shelters and Veterans Administration shelters.
St. Michael's Veterans Center Service Coordinator Christina Taylor said the residential center is focusing on giving veterans a new start. And with that, she said, come new responsibilities.
"We're trying to have them set a new standard for themselves," Taylor said. "When they have this cookware, it lends to this place being more of a home for them that they can take pride in."
Martin said he was happy to be involved with other organizations who have donated to the new veterans living center.
"We were just a piece of something bigger," Martin said. "It was a nice thing to be a part of."
Giving back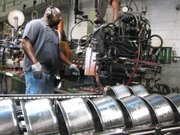 VitaCraft, 11100 W. 58th St., has made charity a large part of the organization's culture.
In addition to the donation to St. Michael's Veterans Center, VitaCraft annually donates items to Cultivate KC, a local nonprofit working to grow food, farms and communities with a healthy local food system.
Karie Keeney, VitaCraft's marketing manager, said the company also donates items to various organization around the holidays and regularly works with Little Sisters of the Poor.
"We try to give back as much as possible," Keeney said.
Last weekend, the company held a community tent sale in their parking lot where area residents could come take advantage of discounts on the company's three lines of cookware.
Founded in 1939, VitaCraft occupies an industrial and commercial space that is easy to miss, even for longtime Shawnee residents. At the corner of 58th Street and Neiman Road, the building disguises a large processing plant that manufactures all of the stainless steel products VitaCraft sells across the world. It also houses about 40 employees.
"It's funny, we're an old company still looking to be discovered here in a way," Martin said.
Expanding operation
Martin said VitaCraft is launching a new line of cookware for commercial use. VitaCraft pans are already marketed with a lifetime warranty, but Martin said there is a large market that has yet to be tapped: commercial kitchens.
Last month, the company unveiled the commercial line for a culinary convention and hosted about 200 chefs in their manufacturing warehouse, Martin said.
"They liked the fact that the people walking them through the tour are the ones who will be able to sell them the product," Martin said. "It's factory direct, which a lot of people prefer."
Martin said he focuses on hiring local employees and, like his company's efforts with charity, he says wants to contribute all he can to the local Shawnee economy.
"The more cookware we make," Martin said, "the more people we can hire."