Police arrest man suspected in Great Clips burglaries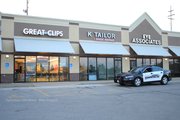 Overland Park police say they arrested a man they believe to be connected with the numerous burglaries of Great Clips hair salons around the Kansas City Metropolitan area, including two in Shawnee.
Officer Jackie Zickel said Overland Park police arrested the man following Thursday night burglaries of a Great Clips in Lanexa and the Shoe Carnival in Overland Park. The arrest was made in coordination with the US Marshals Service Fugitive Apprehension Task Force.
"We have reason to believe he has been involved in several of the other robberies as well," Zickel said.
Shawnee police began investigating two burglaries of Great Clips hair salons on Aug. 23. Officers were called to the first store, located at 22403 West 66th Street, around 6 a.m. for a burglar alarm. On arrival officers found the glass in the front door had been shattered and the business had been burglarized.
Other officers began checking the three other Great Clips locations in the city and found that the store at 15943 West 65th Street had also been burglarized. Again, the glass in the front door had been broken out and someone had burglarized the business.
Major Doug Orbin said the Johnson County Crime Lab processed both scenes.
Additional photos of the damage done during the Shawnee burglaries can be found in the Operation 100 News report.
At least 12 Great Clips stores have been burglarized since June according to police although Zickel said she could not confirm if the man arrested this week has been involved in all of them.
The Great Clips located at 5012 Roe Boulevard in Roeland Park and the location at 11732 West 95th Street in Overland Park were both burglarized early Friday, August 22nd.