Shawnee nine year old donates to Locks of Love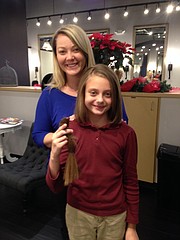 It only took a short commercial to convince Jeydan Umberger that she needed to donate some of her hair to Locks of Love.
It was Thanksgiving day and Jeydan, 9, was watching TV when a commercial appeared on the screen showing images of young children fighting cancer. Jeydan immediately found her mom, Michelle Distler, and made her intentions clear.
"She said she wanted it done that day," Distler said. "But of course nobody is open on Thanksgiving so we had to wait."
The commercial, Jeydan said, sparked a desire in her to help that nothing in her had before. She had seen her mother donate to Locks of Love before but never offered to donate her own hair. It was something about seeing children fighting cancer herself that triggered the response.
"I felt bad for them and I wanted to help them," Jeydan said.
Locks of Love is a national non-profit organization that provides hairpieces to financially disadvantaged children in the United States and Canada under age 21 suffering from long-term medical hair loss from any diagnosis. Distler, the Ward IV City Council representative and 2015 candidate for mayor, has actually donated her hair to the cause four times in the last eight years.
After the Thanksgiving holiday passed, Jeydan and her family were able to go to Bella Dea Salon and Boutique in Shawnee to donate her hair. Jeydan sat in Heather Kendall's chair and watched as the owner of the local business clipped off ten inches of her hair. Luckily, Jeydan had plenty of hair to give and was still left with shoulder-length hair.
People of all ages are able to donate hair to Locks of Love. For more information on the non profit, visit LocksofLove.org.