What to do about Westbrook Village? That is the question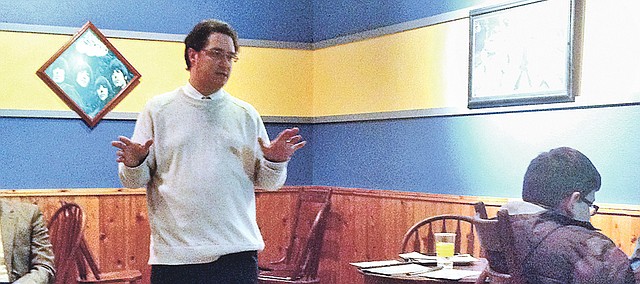 The recent termination of a deal between the developer MDDS and the city of Shawnee to bring a big-box retailer to the Westbrook Village Shopping Center has only added to the frustrations of the largely vacant center's business tenants.
But on the table during a brainstorming session held last week at Planet Sub were free sandwiches and assurances that the 240,000-square-foot shopping center is still a high priority for the city.
"This shopping center is of the utmost importance to the city," said Andrew Nave, executive director of Shawnee's Economic Development Council. "We're not giving up on this center just because this one project didn't work."
At the meeting were city officials, including City Manager Carol Gonzales, and owners of some of the center's businesses. Nave talked a bit about the deal, which was to have been a TIF project where a certain portion of sales taxes would have gone toward paying for the business. He also confirmed reports that had an agreement been reached, the home improvement store Menards would have been the slated build for the center.
This isn't the first drawback to befall the struggling center at 75th and Quivira, however, which has long failed to draw much interest from prospective business owners and developers and is currently 95 percent vacant. Nave touched briefly on the Dillons that was formerly located there and that closed its doors a number of years ago, along with three other grocery stores in Shawnee.
"That really hurt us," he said.
Other challenges, he said, have included the sheer size of the space. Nave said Westbrook is the second-largest shopping center in the city and one of the largest in northern Johnson County. Such a large shopping center would normally be located on a highway, he said, not in a neighborhood like 75th and Quivira.
"So we're kind of stuck with quite a bit of square footage," Nave said.
The city has had other difficulties with getting the center's owners on board with new projects, he said. Westbrook isn't owned by the city, but by WBCMT 2006-C27 Quivira Road, LLC, which is affiliated with LNR Partners, a national real estate company purchased by Starwood Property Trust and Starwood Capital Group in 2013, according to Businessweek.com.

Though they were invited to the brainstorming session, Nave said, representatives with WBCMT did not attend.
"We've had communication with the property owner (in the past)," Nave said, "but it hasn't been what I would hope for."
Nave opened the floor up to comments and suggestions from business owners as to what to do to try to make Westbrook thrive. Working toward turning the center into a multi-use one that would include apartments or senior housing was discussed at length. But an underlying frustration among the owners at the lack of progress was palpable.
"I think you guys are on the right track. In order for the center to work, you're definitely right, it has to be mixed use, it's just too much space," said Ryan Joy, director of franchising for Planet Sub. "I guess the bad thing for us is, I don't see an end in sight to the issue."
"If you don't have a willing landlord or an owner, there's only so much you guys can do," added Greg Porembski, owner of Pizza Street. "If they're not motivated, nothing's going to change."
Both Nave and Gonzales spoke about the city's continued efforts to bring business to Westbrook.
"We've tried lots and lots of things, we're going to keep trying lots of things, we have to keep trying lots of things because this shopping center is so important to us," Gonzales said. "We're open to different uses. Obviously, the Menards concept is different than what you would think of working on this corner, but, you know, we've got to try some stuff."