Google Fiber moving closer in Shawnee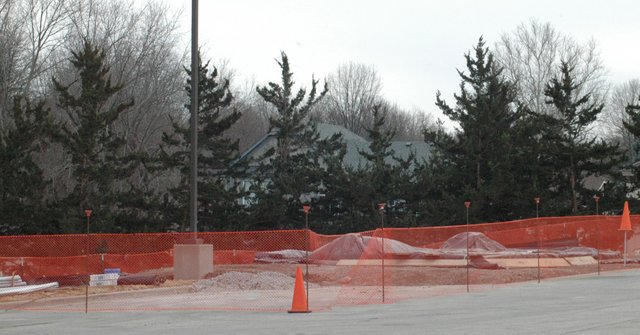 After months of waiting, the first physical signs that Google Fiber is coming to Shawnee are finally taking shape.
Most Shawnee residents probably didn't realize it, but the construction behind Fire House No. 71 off Quivira Road is actually Google building its first of two Fiber Huts in the city.
A second Fiber Hut is being erected at Monticello Springs Park.
A Fiber Hut is an integral part of Google's fiber network and is where thousands of glass fibers enter the hut and pass through the device that receives and transmits signals between an electronic device and the Internet.
Matt Schmitz, the city's senior engineering technician, called the Fiber Huts Google's initial step in deploying their network throughout the city.
"Their network is completely different from anyone else's," he said. "In order for them to provide services throughout the city, they are going to have to run at least one strand of fiber to every home in the city that wants service."
The city provided Google with land for the huts in exchange for providing its service to Shawnee.
Google's application is 100 times faster than today's average broadband speeds.
Schmitz said the Fiber Huts will look like small buildings seen at the base of cellular towers enclosed by a 6-foot-high fence.
As Google gets closer to deployment, Schmitz said, he understands the plan is similar to that executed in other cities where they created Fiberhoods.
"In this situation, so many people have to sign up in that area before they'll green light the area and then build it out," he said.
The costs of Google services will likely be similar to those charged in Kansas City, where customers can receive 1 gigabit of upload and download speed and 200-plus channels for $120 a month, plus taxes. The cost for a gigabit Internet connection runs $70 a month, plus taxes. A free 5 Mbps Internet option is available at a cost of a one-time fee of $300 to run fiber to the home.
While a timeline for what occurs following installation of the Fiber Huts is not public, the next steps in the process are as follows, according to Google Fiber's blog.
After the Fiber Huts are built, small telecom cabinets will also be needed to bundle the fiber that will travel out to various neighborhoods.
At the same time, Google will also be deploying their fiber through the air and underground from the Fiber Huts to the telecom cabinets.
"It's really up to Google how they want to do that," Schmitz said, adding in Kansas City they have tried to stay aerial with deployment as much as possible because it is cheaper.
However, he said, Google won't have any options but to go underground in neighborhoods where there is no aerial service.
Schmitz said Google is working systematically to get the project off the ground.
"It shows they are serious about serving the city and that they are coming," he said.