Shawnee mayor touts accomplishments in 'State of the City' address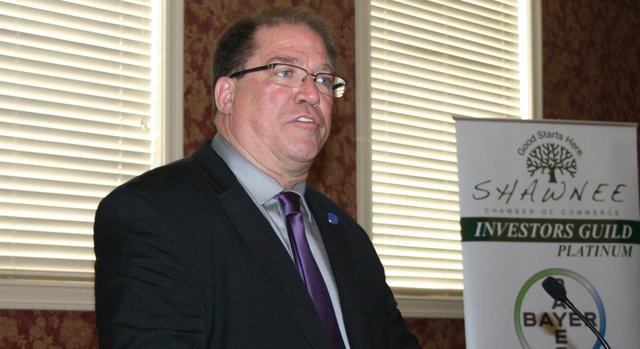 "We're back!"
Shawnee Mayor Jeff Meyers used those two words to kickoff his "State of the City" speech Wednesday at Shawnee Town 1929.
"I really believe that," Meyers said in front of a packed house that featured various community and city leaders.
The city's revitalization is why he chose as a theme for his speech the following: Good connections start here.
"Connections are a huge part of our life every day," he said. "I look at us as having a great portfolio, and the thing that I'm so excited about is we're so well balanced."
While 2013 posed its challenges, Meyers said, the city remained resilient and tried to do what was in the best interest of the community as a whole.
Meyers mentioned projects like 10 Quivira Plaza, Shawnee Mission Parkway Plaza and the new Walmart along K-7 as proof the city is moving forward.
He recalled some people asking why Shawnee was bringing another Walmart to the city.
"Council was resilient, and this has been great for our community," he said. "It's going gangbusters, and many of the people who were against the Walmart coming are the ones shopping there the most."
The city's revitalization efforts are showing where it counts most: new businesses and news jobs.
Shawnee continues to have one of the lowest unemployment rates in the area, down 0.4 percentage points from last year, 1.7 percentage points below the state and 3.5 percentage points below the national rate of 6.6 percent.
Meyers pointed out the retail vacancy rate also decreased from 15 percent to 13 percent, almost half of which is vacant space at Westbrooke Village.
"I am hopeful that we will soon see a plan for that shopping center," he said.
Similar to the retail vacancy rate, the industrial vacancy rate was also down more than 2 percentage points, from 8.8 percent to 6.1 percent.
Meyers pointed out numerous accomplishments in 2013, including progress with the Neighborhood Focus Program, the charitable work of various church groups, the city's spring recycling program and the growing number of programs offered by the city's parks and recreation department, to name a few.
Meyers said he was thrilled with the council's recent decision to place the renewal of the city's 10-year "Parks and Pipes" eighth-of-a-cent sales tax on the November general election ballot.
The next critical step will be whether council members choose to place an additional sales tax question on the November ballot dealing with funding street maintenance.
"At our current funding levels, we only touch each street in town once every 27 years," he said. "That's unacceptable. If we continue to stay at current funding levels, by 2020, over one-third of our streets will be rated poor or below."
Facing a funding gap of $2.8 million each year, he said, an additional quarter-cent sales tax would almost fill the void.
"It would add 25 cents to every $100 purchase in Shawnee and would bring us to almost a 14-year overlay program," he said.
Meyers said finding the money from another source is not an option.
"I don't think that our community wants us to make the service and program cuts that would be required to find $2.8 million per year for street maintenance," he said. "I know that none of us would like what that Shawnee would look like."
In closing, Meyers recalled a quote from a branding project the city did several years ago.
"Working together, being connected, is what we do best," he said, adding by staying plugged in and connected to Shawnee, there's no doubt good things will continue to happen in the future.
To view a transcript of the mayor's State of the City speech, visit www.cityofshawnee.org.