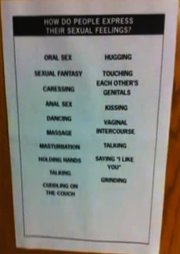 A parent complaint about a poster used as a visual aid in teaching students at Hocker Grove Middle School about human sexuality has made its way to the Statehouse.
A House bill inspired by the poster and introduced by Mary Pilcher-Cook, R-Shawnee, that would require districts to receive written permission from parents before students would be allowed to take part in sex education classes will be heard Tuesday by the House Education Committee. A Senate bill awaits a hearing.
The poster was titled "How Do People Express Their Sexual Feelings?" and listed as answers a number of intimate and sexual acts, including "sexual fantasy," "oral sex" and "grinding."
Officials with the Shawnee Mission school district say the poster was a supplemental visual aid meant to be used in the context of classroom discussions on human sexuality and sexually transmitted diseases. The poster is a supporting component of new curriculum, called "Making a Difference," students are using this school year. Human sexuality is a part of health classes taught at middle schools in Shawnee Mission, said district spokeswoman Leigh Anne Neal.
Since the complaint was made in January by the parent of a student at Hocker Grove, the poster has been taken down and the district is in the process of conducting a full review to determine whether it will be used again in the future, Neal said.
"The material will not be utilized until we can do that comprehensive review," she said.
Pilcher-Cook said she developed the House and Senate bills after the poster was brought to her attention by concerned constituents. The poster was put up without parents' knowledge, she said.
"Parents should be given full information about what their children are being taught on a very sensitive subject," she said in a press release. "I will be working with school officials to ensure that happens and I am relieved to hear the Shawnee Mission school district is doing a comprehensive review of the sexual education material."
But the legislation in question already has some solid opposition from Kansas college students, who descended Monday on the Capitol, lobbying legislators to reject the changes and arguing such changes would ignore the wishes of local communities.
The Kansas University, Emporia State University and Wichita State University students are members of campus Choice USA, a national abortion-rights organization that speaks out on reproductive rights issues. The students lobby in Topeka each session and chose the sex education bill as their focus this year.
Currently, the decision regarding policies about parental approval of sex education is left to local school districts.
In the Shawnee Mission school district, Neal said, parents have the option to opt their child out of the human sexuality portion of health classes by simply contacting the school and filling out a form. They can also review the materials beforehand, she said.
John Milburn of the Associated Press contributed to this report.